How to Become a UFC Fighter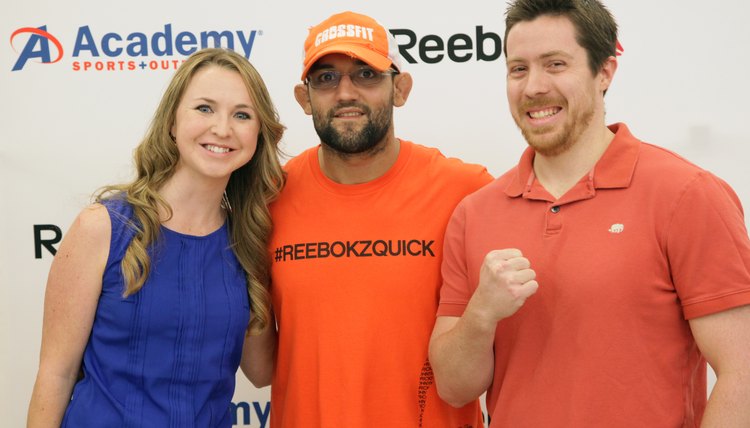 The UFC is an elite fight league with some of the best mixed martial arts fighters in the world. The league is top-tier, similar to the NFL or NBA in status. Working your way to the UFC requires an incredible amount of training, dedication and talent. Only proven fighters are admitted to the UFC, and most spend years working their way to the top.
Build a Training System
Before you even consider entering a real competition, build a well-rounded training system. Look to local gyms in your area to find sparring partners and other fighters in training. Many populated areas have MMA-specific gyms, but in areas without facilities, you must attend multiple gyms. Join practices with a wrestling team, find a boxing gym and add any Jujitsu or other martial arts options available. Also add daily strength and conditioning to your program. A common training schedule involves strength and conditioning in the morning followed by a sparring, grappling and a technical session in the afternoon.
Local Fight Leagues
After training for at least a few months, it is time to start fighting. The UFC only accepts proven fighters who demonstrate their skills successfully in the octagon. Start with your local or state-level fight leagues and work your way to the top. Each state has individually sanctioned fight leagues with different governing bodies. Competitors pay entry fees and work on an individual fight contract. Most leagues have payouts for winning fighters, but nothing is guaranteed without a contract. If you win every fight entered, you'll need a year or two of local and regional events to build a record and gain attention. Get to know the local promoters and the competition, build a good reputation and win the majority of these fights if you want a shot at the UFC.
Moving Forward
After you have built a local reputation, look for other up-and-coming fighters and try to schedule a higher-risk fight. In other words, look for a fight that you are expected to lose. If a potential UFC fighter comes through your area and you win the bout, you will gain some attention from the decision makers and find yourself in a position to move forward and fight at a higher level. The only way into the UFC is through a positive record against high-caliber fighters. You must win around a half-dozen tough fights while proving your ability to win by submission and knockout. Building a record against low-caliber opponents will not increase your odds of a UFC debut.
Read Your Contracts
Once you reach a high level, contract opportunities with other fight leagues may arise. Read the fine print to ensure you are not legally bound to these leagues. If the UFC makes an offer and you are signed with a different organization, you may lose your shot. Numerous fighters are working toward a UFC berth, and retaining the ability to capitalize on the opportunity is important.
Self-Promote and Make Contact
The number of quality fighters makes it difficult to distinguish yourself, even with a great record. Self-promote and build some excitement to put yourself on the UFC radar. Create a YouTube channel with footage from your best fights. Also make a highlight reel to show off your best moments. Send your stats and videos directly to the UFC matchmakers who arrange the matches. As of 2014, they were Joe Silva and Sean Shelby. Do not send anything until you are a proven fighter with wins over high-quality opponents.
Ultimate Fighter Reality Show
The final means of entry to the UFC is through the Ultimate Fighter Reality Show. The minimum requirements for applications are subject to change, but candidates typically must win three professional fights outside of the UFC for consideration.
References
Writer Bio
Zach Lazzari is a Montana based freelance outdoor writer and photographer. You can follow his work at bustedoarlock.com.