Club Car Speed Tips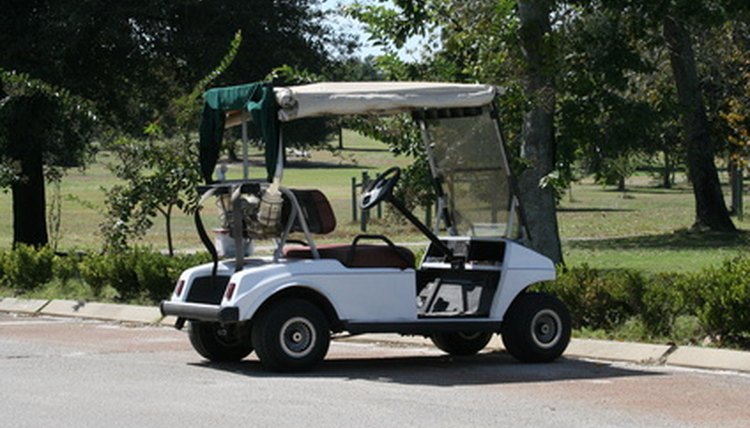 Club Car is a manufacturer of golf carts and utility vehicles used primarily on the golf course for transportation. The company started producing golf carts in 1958 and has expanded to create a broad array of carts and transportation shuttles. Club Cars are designed for basic transportation, not racing, and can become unsafe if used at improper speeds.
Navigating the Golf Course
Club Car carts are used primarily on the golf course for transporting players. Depending on the shape and design of a golf course, Club Cars can achieve various speeds. On hilly courses that involve a large amount of accelerating and decelerating, Club Car speeds should be kept at a moderate level in order to avoid overheating or engine damage.
On a more level golf course, Club Cars can hit higher speeds, though most standard models of the Club Car do not exceed 15 miles per hour. Sand traps and golf course hazards should be avoided at all times. The sand can cause the engine to overwork and since Club Cars do not accelerate at a high level, it is possible to become stuck in the sand.
Club Car Speeds
The standard Club Car golf cart comes with three speed setting standards. They operate in 5-mile-per-hour increments, maxing out at 15 mph. With an extra payment, Club Car can install another speed setting that tops out around 19 miles per hour. In order to add this fourth setting to the cart, an owner must take the vehicle in to a professional shop licensed to operate by Club Car. Club Car uses specially made electronic parts that are only applicable to their vehicles.
The different speed settings should be used according to the skill level of the driver and the rules of the course. Reckless driving and speeding are usually monitored by course officials. Staying within the mph of the lower-two speed settings will insure a safer ride.
Club Car Safety
In 2007 Club Car recalled a number of their golf carts for a problem with the steering gear in which the steering mechanism would fail. When buying a used Club Car it is important to make sure that the specific model you have obtained is unaffected by these defective steering issues. If you notice any loss of control while accelerating or switching gears in a Club Car, get the vehicle evaluated by the manufacturer.
When riding in a Club Car make sure to keep arms and legs within the vehicle at all times. Since the cart is open on all four sides it is possible, but very unsafe, to lean out of the vehicle or even get out before the vehicle has come to a complete stop. These actions can cause injury and should be avoided at all times.
References
Writer Bio
Sal Bass started in journalism as a writer/editor for his college newspaper at the University of Michigan, graduating in 2007 with a degree in economics. He was hired in 2008 to work full-time for "Daily Variety" and was soon promoted to production editor of Variety.com.