Distance Specifications for Volleyball Net Pole Setup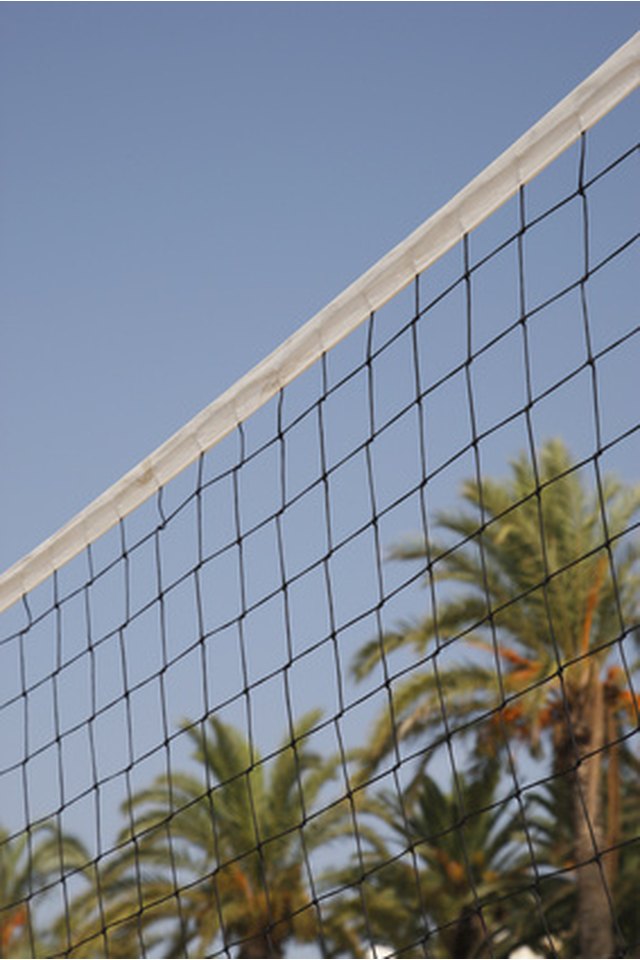 Volleyball is an internationally popular sport. Whether played in junior high school gymnasiums or the beaches of Brazil, it attracts players of all ages and nationalities. In determining where on the court to place the volleyball net posts, various organizations rely on the regulations set forth by the Federation Internationale de Volleyball (FIVB).
Distance From End Lines
The volleyball net resides at the center line. On a volleyball court, the center line serves as a dividing line between two equal 9-meter-by-9 meter squares (29 feet by 6 inches). The center line itself belongs equally to both sides of the court. Two rounded metal poles support either side of the volleyball net, which is secured tightly to the poles by net ties.
Distance From Sidelines
Volleyball net support poles lie between 1/2 meter (20 inches) and 1 meter (39 inches) away from the sideline. International competition play requires all poles to lie 1 meter away from the court sideline. This measurement allows for adjustment in noninternational play to accommodate different court configurations and space limitations.
Height of Poles
The standard volleyball net pole stands a distance of 2.55 meters (8 feet 4 inches) from the ground. To reduce the chance of injury, referees examine poles before every match to ensure that no exposed wires or dangerous metal pieces exist that could cause harm to players. In some venues, volleyball poles are substituted with suspended ceiling-mounted net supports.
Volleyball Net Height Configuration
The height of a volleyball net changes depending on level of play. The top of a standard men's volleyball net rests 2.43 meters (7 feet 11 5/8 inches) from the floor, while the top of a women's net rests 2.24 meters (7 feet 4 1/8 inches) from the floor. Coed rules follow the men's net regulations, while reverse coed rules follow the women's. To accommodate for different physical characteristics in age groups, net heights remain lower for children age 14 and under, women age 45 and older and men age 55 and older.
Volleyball Pole Padding
To meet FIVB safety regulations, volleyball poles must contain padding up to 1.7 meters (5 feet 6 inches) from the ground. The thickness of the padding must measure at least 1.25 centimeters (1/2 inch). The padding material must create shock absorption and be clearly visible in appearance. Should a referee platform, which is required in international competition, contain exposed poles or legs, those should also include proper padding up to 1.7 meters (5 feet 6 inches) in height.
Writer Bio
J.M. Soden has been a freelance writer since 2005. He primarily writes sports articles but also enjoys writing about travel destinations, legal matters and electronics troubleshooting. He holds a Bachelor of Arts degree from the University of Notre Dame in American studies.