How to Host a Cross-Country Team Dinner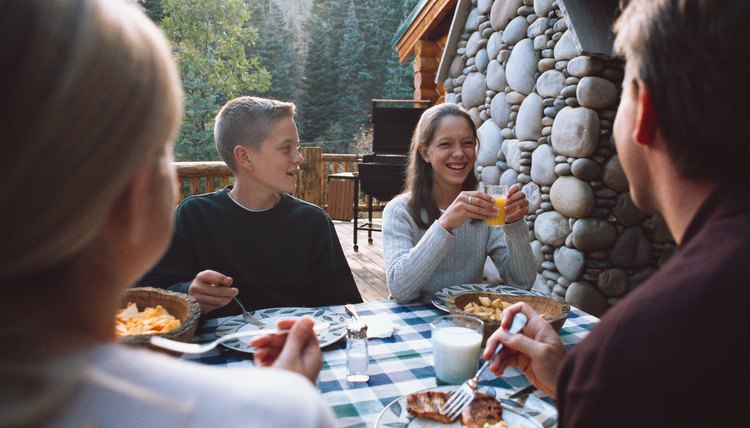 Whether your dinner for the cross-country team happens before a meet or after, its primary purpose should be building the esprit de corps and bonding between teammates. If the dinner occurs before a meet, let the food and a relaxed family-feeling be your theme. Provide plenty of space for the athletes to mingle both indoors and out, weather-permitting, and keep the event low-key but friendly.
Dinner Reminders
Teens can be notoriously absentminded when it comes to times and places, so provide plenty of reminders about the dinner. Simple one-page fliers, written by hand and giving directions to your house, are the first step; hand them out at a practice a few days before the dinner. Use large letters with bold print and a simple heading, such as, "Team dinner on Thursday," so the fliers are easily to read at a glance. Send tweets and online posts the day before and the day of the gathering to ensure everyone will attend.
Set the Stage
A simple banner that says "Go Team" is the only decoration you need. Organize your space to accommodate groups of teens. Include a buffet setup on your kitchen counters if room allows and allocate some seating at your dining room table; if your kitchen is small, set the buffet on the dining table. In either case, place folding chairs and TV trays in small clusters around the room, not in straight lines. Designate a coffee table as an eating space for teens to sit around on the floor, and place large pillows on the floor around the table.
Give 'Em Carbs
Spaghetti, garlic bread and salad with assorted vegetables for runners to add themselves make up a traditional pre-meet dinner, with easy-to-serve brownies, cookies or cupcakes for dessert. Plan on about 1 pound of pasta for every five to six people, and provide both vegetarian and meat sauces with about 1/2 to 3/4 cup per serving. Lasagna or baked potatoes with chili for topping provide good alternatives to spaghetti. For drinks, serve lemonade, sports drinks and ice water with lemon slices.
Encourage Socializing
Instead of leading games or competitions, ask students to help with dinner preparations and with cleanup at the end of the dinner -- they'll talk to each other over the chopping board and at the stove. Provide low-key activities that encourage talking, including asking each team member to say what she likes most about the cross-country team, or providing a list of questions for each person to answer aloud, such as, "Describe your most embarrassing moment," or "Name your favorite movie and explain why you like it."
References
Writer Bio
Susan Lundman began writing about her passions of cooking, gardening, entertaining and recreation after working for a nonprofit agency, writing grants and researching child development issues. She has written professionally for six years since then. Lundman received her M.A. from Stanford University.