Instructions for Building a Heavy Bag Stand Out of Wood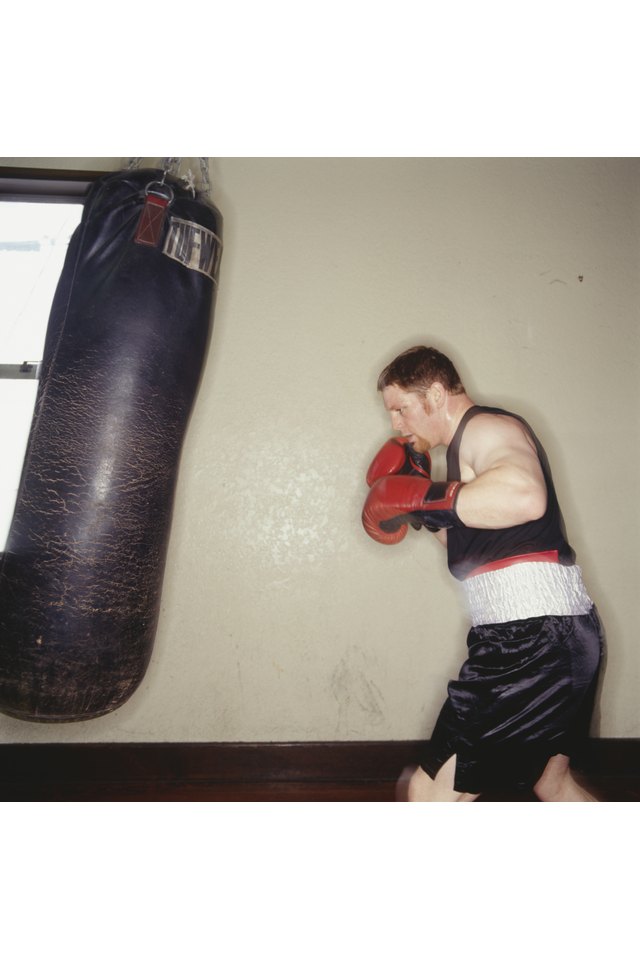 Heavy bags are a staple of boxing and martial-arts training. The bags--often filled with water or special padding--provide an aerobic workout and allow a fighter to work his form. Heavy bags need to have a stand that can support not only the weight of the bag but also the stresses that come from the bag moving around as it is hit. Fortunately, a wooden stand, carefully built, can do the trick nicely.
Wood Selection
Select a heavier wood that is durable and will not splinter easily under stress. Oak and pine are good choices, especially if 4-by-4 inch posts are used. Avoid lighter woods like maple and poplar. Be sure that the supporting frame is made of thick posts and not narrower boards like 2-by-4 inch boards.
Bolts and Fasteners
Do not rely on wood screws; drill holes through the beam and use solid steel bolts. Use a steel chain plate as well to add stability. Using four through-bolts that are 1/4-inch diameter, to connect the 4-by-4 inch posts, will provide significantly more structural stability than screws or glue. Ensure that the screw holding the bag in place is also of solid steel construction and is secured through the beam and not merely to it.
Counterweights
Because a heavy bag needs to be accessed from most any direction, a counterweight system is necessary to keep the entire stand from tipping over. Put a counterweight on the other side of the main vertical beam or build a solid base with long, weighted legs that will avoid tipping even as the bag is worked hard. Even after the frame is built and the bag is mounted, test the structural stability of the stand to ensure that there is limited risk of injury from a tipping accident.
Design Tips
A stand with a vertical upright and a horizontal cross member from which the bag is connected is the simplest design. Include support arms that connect both posts at a 45-degree angle to provide an additional degree of structural stability. If a four-leg system is used for the base, make sure that the legs are not in line with the primary horizontal arm; offset them at a 45-degree angle to distribute the load when the bag is worked.
Writer Bio
Jason Gillikin is a copy editor and writer who specializes in health care, finance and consumer technology. His various degrees in the liberal arts have helped him craft narratives within corporate white papers, novellas and even encyclopedias.