How to Iron a Baseball Patch on a Jersey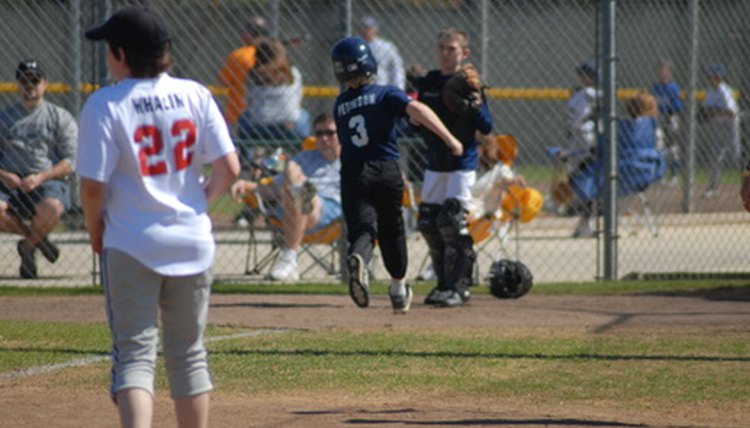 The baseball uniform has many components. One of those components is patches. Patches often signify things such as what league your are playing in, a special tournament, or maybe even a remembrance for someone in the community who was integral to the league. These patches are generally attached one of two ways. Either they are sewed or ironed onto the uniform. Iron-on patches have a glue adhesive on the back that will allow you to distinguish the difference.
Wash the baseball uniform. You want to make sure the uniform shirt is clean before attaching the patch. Follow the care instructions on the uniform shirt when laundering.
Remove any paper attached to the patch. Some iron-on patches may have a protective paper over the glue. If this is the case, simply peel off the paper and discard.
Turn on the iron to a medium setting and allow it to pre-heat.
Place the patch where you want it on the uniform jersey. Popular places for baseball patches are on the upper arm sleeve, or over the left or right side of the chest.
Tape the patch down using hem tape. If you do not have hem tape, a light adhesive tape will do the trick.
Turn the baseball jersey inside out. To avoid scorching the uniform, iron from the inside of the baseball jersey. This will also allow you to see where the glue is and is not sticking to the uniform in the next step.
Press the hot iron onto the jersey and onto the back side of the patch. Hold the iron there for 10 to 15 seconds. Remove and see if the patch is sticking. If the glue is not melting, adjust your heat slightly higher. Continue to repeat until the patch is securely attached to the jersey. It should only take two or three presses of the hot iron to secure the patch.
Allow the patch to cool before flipping the shirt right-side out again. You want to be sure to let the glue re-harden so the adhesive sticks properly to the baseball jersey.
Writer Bio
Scott Damon is a Web content specialist who has written for a multitude of websites dating back to 2007. Damon covers a variety of topics including personal finance, small business, sports, food and travel, among many others.