Ladies Golf Tournament Theme Ideas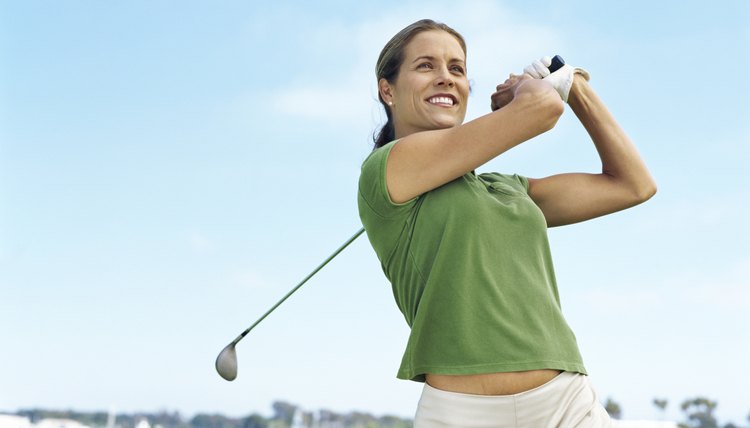 Getting participants to take part in a ladies golf tournament depends on a lot more than nice weather. Coming up with a creative theme helps turn a golf outing into an event that can't be missed. Select themes designed to draw attention and interest, whether because of altruistic reasons or just because they sound like they'd assure a fun day on the links.
Charitable Causes
Golf tournaments are traditional fundraising tools, where entry fees go to a specific charity. A Susan G. Komen for the Cure Tournament, for example, can use the event to raise money to fight breast cancer, combining a fun activity with a cause that everyone can support. In-tournament contests like a closest-to-the-pin hole, in which participants kick in a few extra dollars on a par 3 and whoever gets closest to a hole-in-one wins a prize, adds to the pot as well. Accompanying the golf tournament with a silent auction, where members have the chance to win donated items or activities, increases the potential donation further.
Partner Events
Growing the game of golf is a common concern among clubs, which depend on future generations for their continued existence. A mother-daughter or grandmother-granddaughter event combines friendly competition with early exposure to the game. A participating child should have at least some on-course experience before taking part, and should hit her tee shot far enough that her drives have a chance at reaching the fairway. A smaller child can participate in other contests, like a putting competition where she and a parent or grandparent try their hands at tricky shots.
Costume Themes
Just because golf clubs have rules about on-course attire doesn't mean members can't make an exception for special occasions, or dress differently before they hit the links. A 1960s theme can require members to reach deep into closets to pick out appropriate apparel – or inspire them to call parents and grandparents to raid their old wardrobes. Participants can don holiday apparel for a Christmas In July event; or red, white and blue on the Fourth of July. Following the tournament with a similarly themed dinner and dance only extends the fun.
Pop Culture Princesses
Take advantage of the latest trends to create themes that reflect what's hot in pop culture, and award prizes for foursomes that best pull it off. For example, a "Real Housewives" of your city tournament can ask people not only to dress the part of the pampered rich, but continue those roles throughout the day. An "American Idol" or "The Voice" themed event could combine 18 holes of golf with a karaoke contest. Have an "America's Got Talent" tournament that grades foursomes not just on their on-course performance, but on their abilities in another area. A foursome may put on a magic show or sing a group number; while other groups might display their crafts, paintings or gourmet cooking.