What Are the Line Markings on Fields Made Of?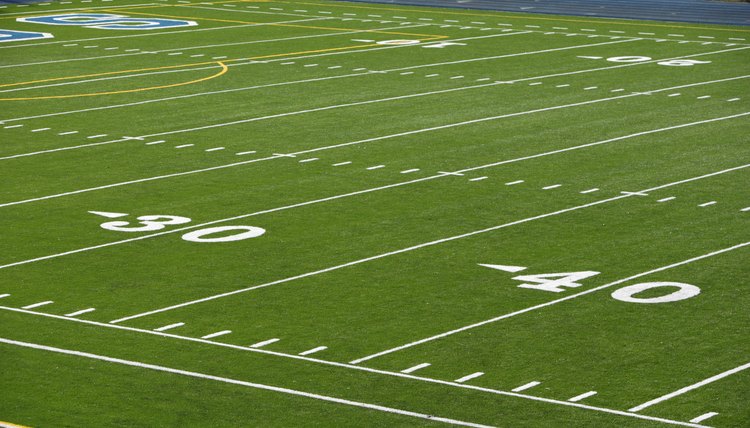 It's been decades since turf managers used eye-burning chemicals to mark fields. Not only did those white lines of the past harm players, but they were toxic for the environment too. Luckily, a boom in spectator sports popularity demanded innovation in field marking. These days, field managers mark playing surfaces accurately using non-toxic materials.
Non-toxic Field Markers
A non-toxic, highly specialized and brightened paint marks high-level amateur fields and professional playing surfaces. But baseball stadiums usually use good, old-fashioned chalk, which is non-toxic and environmentally friendly. Groundskeepers use wheelbarrow-sized pieces of equipment called stripers to make accurate lines. But playing fields are trending toward synthetic "field turf" surfaces that don't muddy in poor weather, don't require constant mowing and upkeep, and don't need daily line painting. These fields feature rubber grass filled in with crumb rubber, made of crushed used tires. Line markings on field turf surfaces are permanent and pre-manufactured, but the industry is currently working on removable paint for multi-purpose fields.
References
Writer Bio
Christopher Michael began writing in 2010 for Break.com. He received a Bachelor of Arts in English from the University of Massachusetts, Amherst. Writing sports and travel articles helps support his professional baseball career, which has taken him to 49 states, five continents and four oceans.