List of Men's Soccer Programs for Texas Colleges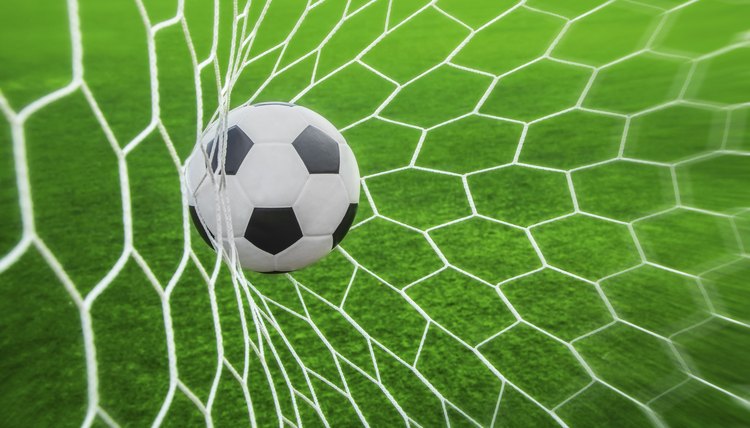 Texas has three major college men's soccer teams with a fourth National Collegiate Athletic Association Division I program in development to begin play in 2015. The state is also home to dozens of men's programs at intermediate and lower competitive college levels, offering ample opportunity for good high school players to continue their playing careers.
NCAA Division I
Of the 205 NCAA Division I men's soccer programs playing in 2014-15, only three were Texas schools. Southern Methodist University in Dallas is a member of the American Athletic Conference. Houston Baptist University and Incarnate Word University of San Antonio play in the Western Athletic Conference. The merger of the University of Texas-Brownsville and Texas-Pan American in Edinburg will form another D-I program at the new University of Texas-Rio Grande Valley. It will play in the WAC.
NCAA Division II
Schools at the Division II level can offer a combination of athletic scholarship and other forms of aid. The Heartland Conference is a solid men's soccer conference at the D-Il level. It's members include: Texas A&M International University, Laredo. St. Edwards College, Austin. Midwestern State University, Wichita Falls. University of Texas at Permian Basin, Odessa. Lubbock Christian University, Lubbock. Dallas Baptist University, Dallas. St. Mary's University, San Antonio. In addition, West Texas A&M in Canyon operates as an independent men's soccer program at the D-II level.
NCAA Division III
Schools at the Division III level do not give athletic scholarships, but may offer various grants-in-aid. The Southern Collegiate Athletic Conference and American Southwest Conference have several men's programs in Texas at the D-III level. They include: Trinity University, San Antonio, Southern Collegiate Athletic Conference. University of Dallas, Irving, SCAC. Southwestern University, Georgetown, SCAC. Texas Lutheran University, Seguin, SCAC. Shreiner University, Kerrville, SCAC. Austin College, Sherman, SCAC. University of Texas at Dallas, Richardson, American Southwest Conference. Hardin-Simmons University, Abilene, ASC. University of Texas at Tyler, Tyler, ASC. University of Mary Hardin-Baylor, Belton, ASC. Concordia University, Austin, ASC. East Texas Baptist University, Marshall, ASC. McMurray University, Abilene, ASC. Howard Payne University, Brownwood, ASC. LeTourneau University, Longwood, ASC.
National Intercollegiate Athletic Association
The NAIA has several men's programs in Texas in the Red River Athletic Conference and some in the Sooner Athletic Conference, playing at a level comparable to NCAA Division III. The University of Texas at Brownsville played its final season in the RRAC in 2014 before the school merged with Texas-Pan American. Other NAIA schools include: Paul Quinn University, Dallas, RRAC. University of St. Thomas, Houston, RRAC. Texas College, Tyler, RRAC. Huston-Tillotson University, Austin, RRAC. Jarvis Christian College, Hawkins, RRAC. Our Lady of the Lake University, San Antonio, RRAC. University of Houston-Victoria, RRAC. Wiley College, Marshall, RRAC. Wayland Baptist University, Longview, Sooner Athletic Conference. Texas Wesleyan University, Fort Worth SAC. Southwestern Assemblies of God University, Waxahachie, SAC.
References
Writer Bio
Jeff Gordon has been reporting and writing since 1977. His most recent work has appeared on websites such as eHow, GolfLink, Ask Men, Open Sports, Fox Sports and MSN. He has previously written for publications such as "The Sporting News" and "The Hockey News." He graduated from the University of Missouri-Columbia School of Journalism in 1979 with a bachelor's degree.