Facts About Soccer in Mexico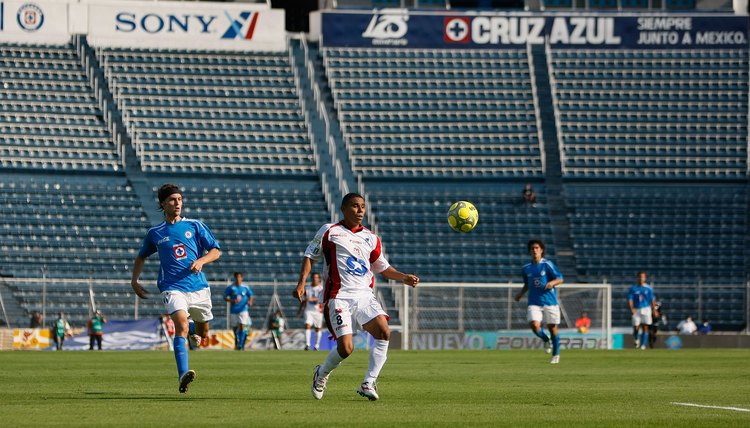 The passion for soccer in Mexico makes a visit to Mexico City's Azteca Stadium a feared occasion for rivals in CONCACAF, the regional conference overseen by FIFA, the international governing body of soccer. National teams from the United States, Canada, Caribbean islands and Central America compete for victory in front of 105,000 screaming fans. Mexico produces players able to operate at the top international level, including positions on Manchester United and Arsenal in England.
Participants
In 2006 as part of its "Big Count," FIFA counted nearly 8.5 million Mexican soccer players, registered and unregistered, out of a population of 107 million. Mexico places sixth worldwide in number of players, behind China, the U.S., India, Germany and Brazil. The country has 311 registered soccer clubs and 17,000 teams. Its 13,000 registered female players place it 20th in the world, behind leaders the U.S., Germany and Canada; 7,000 registered female youth players put Mexico at 17th worldwide.
History
The Mexican Federation of Soccer was founded in 1927. This came decades after the first school teams, consisting of students of Jesuit and Marist priests, began playing in 1897 and the first club team, of immigrant English miners, began in 1900. English players dominated the first three teams, the Orizaba, Pachuca and Reformation athletic clubs, with the first championship held in 1902. The first national team selection occurred in 1923. Mexico's first international appearance was at the 1928 Olympic Games in Amsterdam.
World Cup
Mexico played in the first World Cup in 1930, held in Uruguay. The team lost to France 4-1 in the first game. Mexico has appeared in 14 World Cups from 1930 through 2010. Mexico advanced the farthest in 1970 and 1986, when it hosted the World Cup and advanced both times to the quarterfinals. In the five World Cups from 1994 through 2010, El Tricolor or "El Tri," so named for its green, white and red uniform, has advanced from the group stage to knockout stage where they were eliminated. In 2014, Mexico's men's national team ranked 24th in the world and second in CONCACAF, behind the U.S. and in front of Honduras. The women's team ranks third in the region, behind the U.S. and Canada.
National Leagues
As with other nations where soccer is wildly popular, Mexico divides its professional system into a top division and three lower divisions. Teams are promoted and relegated depending on annual performance. The Primera Division consists of 18 teams in three groups, and includes Atlante, Pumas, Cruz Azul and the oldest club, Pachuca. The division has two half seasons, and in the playoffs the champions of the two half seasons face off against each other.
Famous Players
Striker Javier Hernandez poured in 20 goals in his debut season of 2010-11 for Manchester United. With a jersey that reads "Chicharito," Spanish for "little pea," Hernandez has become the most famous of Mexico's approximately 4,600 professional players. Top goal scorers, historically, for the men's national team include Jared Borgetti with 46, Cuauhtemoc Blanco with 39, Carlos Hermosillo with 35 and Luis Hernandez, with his long, dyed-blond locks, 35.
References
Writer Bio
An award-winning writer and editor, Rogue Parrish has worked at the Washington Post, the Baltimore Sun and at newspapers from England to Alaska. This world adventurer and travel book author, who graduates summa cum laude in journalism from the University of Maryland, specializes in travel and food -- as well as sports and fitness. She's also a property manager and writes on DIY projects.