NCAA Spring Football Practice Rules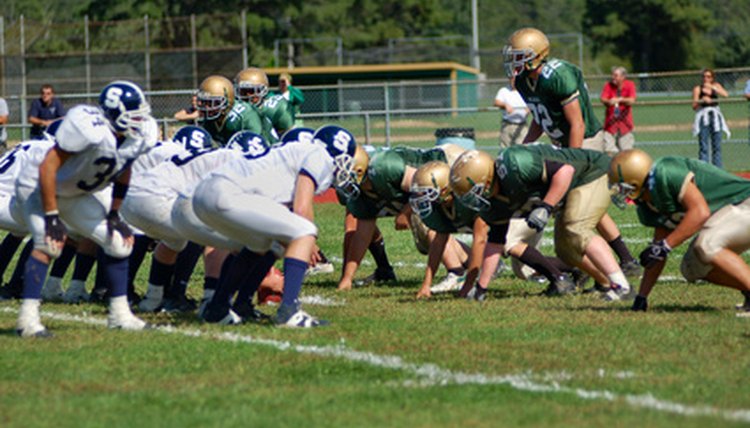 To promote fair play among hundreds of colleges and universities, the NCAA has developed a rule book governing all aspects of play during, before and after the football season. During the spring, all institutions have the right to practice a certain amount of times. To comply with the NCAA, all schools must follow the rules concerning the number of practices and the drills they are allowed to conduct.
Spring Schedule
A college is allowed to hold 15 spring practices, including a spring game. Schools are also permitted to have separate days during which activities are limited to required conditioning activities and/or watching film. These 15 practices must be completed within a period of 34 consecutive calendar days. Exceptions to consecutive days are university-sanctioned vacation and examination days, and days with inclement weather, restricting the possibility of practice. Only 12 spring practices may permit physical contact, none earlier than the third practice session. Tackling is allowed in eight of the twelve contact sessions. Up to three of the eight tackling sessions may be devoted to 11-on-11 scrimmages. The optional spring game counts as one of the three scrimmage days.
Discretionary Time
Between Jan. 1 and the first date of preseason practice, a university conducts its offseason conditioning period. An institution designates eight weeks in this period as discretionary time for the student-athlete. The eight weeks must be broken up into segments that contain seven consecutive calendar days. The discretionary time period must be placed on file in the school's athletic department before Jan. 1. Mandatory team conditioning, film review and weight training can also be completed outside of the student-athlete discretionary period. These activities are limited to eight hours per week, with only two hours allowed for film review.
The Spring Game
The spring game is held at the end of spring practice and is usually open to the public. The team plays an intrasquad scrimmage, and some schools invite alumni and selected students to participate. Depending on the school, the time limit and scoring system vary. The purposes of the game include acclimating new players to game speed and the playbook, familiarizing coaches with their players' skills and boosting the morale of football fans concerning the upcoming season.
References
Writer Bio
Derek King is an undergraduate student attending the University of Austin. King was editor-in-chief of his high school newspaper for four years. In addition to online instructional articles, he also creates content for the music and entertainment blog GetFreshKid.com.