How to Size Hockey Socks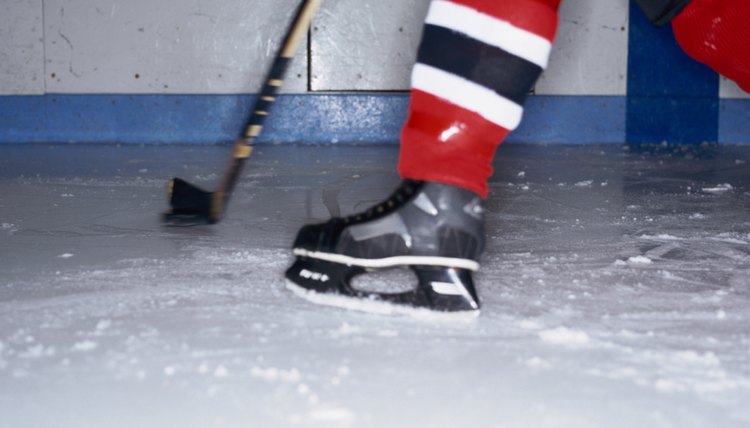 Hockey socks are different from traditional or skate socks, as they're open ended and don't cover you're feet. They're designed to run from the bottom of your hockey pants at the middle of your thigh, down to your ankle. In addition to hockey socks, athletes will simultaneously wear skate socks, which cover their feet. Hockey socks are wider than traditional ones, because they have to fit over your thick shin guards. The width of the socks increases with the size of the sock to accommodate for larger shin guards.
Finding Your Sock Size
You can determine the size you need by measuring the length of your leg. Use a fabric measuring tape to measure the distance between your ankle bone and the middle of your thigh.
If the distance is 16 to 18 inches, select mites size.
If the distance is 22 to 24 inches, select youth size.
If the distance is 26 to 28 inches, select intermediate size.
If the distance is 30 to 32 inches, select adult size.
If the distance is 33 or 34 inches, select extra large size.
If you find that your measurement places you in-between sizes, you can select the larger size and wrap the socks with tape, attach the socks to your garter belt, or use the fabric fastener tabs on your hockey jog shorts to secure the socks in place.
Writer Bio
Kim Nunley has been screenwriting and working as an online health and fitness writer since 2005. She's had multiple short screenplays produced and her feature scripts have placed at the Austin Film Festival. Prior to writing full-time, she worked as a strength coach, athletic coach and college instructor. She holds a master's degree in kinesiology from California State University, Fullerton.