What Sport Does Not Involve Your Legs?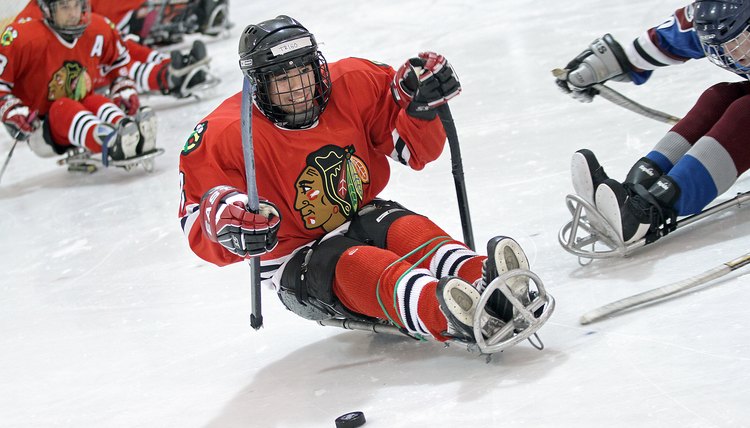 Sports are an integral part of many people's lives. When an injury, temporary or permanent, interferes with a person's ability to play his chosen sport, depression is a real danger to his health and well-being. Many sports have adaptive versions that accommodate wheelchairs and other supportive devices. In addition, several sports don't require an athlete to have the use of his legs at all. The thrill of competitive sports is enjoyed as much by chess enthusiasts as it is by sled hockey players.
Mind Sports
The four mind sports included in the World Mind Sports Association are bridge, chess, checkers and go. Strategic sports of the mind, each uses complex strategies to win the game. In checkers, the goal is to remove the opposing player's pieces from the board until there are no moves left. Chess is played similarly, with more intricate moves of the chess pieces, until the game is resolved with the capture of the king. Bridge and go are equally complicated and also played at a tournament level. While mind sports' status as "real" sports is sometimes debated, universities such as Texas Tech provide chess scholarships and participate in national chess tournaments.
Remote Control Racing Sports
Building and racing remote control airplanes, boats and cars is a hobbyist's dream sport. From building the detailed scale models to displaying and racing the vehicles, remote control racing is an accessible sport for mobility-impaired enthusiasts. Sponsored by universities, city and country recreational districts and local hobby shops, tournaments are held on lakes and lagoons, specially built race tracks and in open fields. Remote control racing is a nationwide as well as international sport.
Shooting Sports
Archery, target shooting, trap and skeet are accessible sports for most shooters. As injuries, age or disabilities limit a shooter's ability to stand or walk, many shooting enthusiasts simply adjust their technique to accommodate a stool or wheelchair. In Arizona, the Ben Avery Clay Target Center took a further step in accommodating wheelchair trap and skeet shooters by building a completely accessible trap and skeet field, complete with bathroom facilities, adjacent to the RV campground.
Winter Sports
Winter sports that don't require the use of legs include luge, skiing and sled hockey. Luge athletes use a single- or two-person sled to slide down an icy course, racing against the clock. Now an Olympic sport, luge was first included in the 1964 Winter Olympics. Another sport enjoyed by the mobility-impaired is skiing. A bucket-type seat is mounted over one or two skis, allowing a disabled skier to glide like the wind down the snowy slopes of the local ski resort. Sled hockey, on the other hand, appeals to the competitive nature of the team player. The players use sleds instead of ice skates and a pair of short, specially built hockey sticks to propel themselves across the ice and hit the puck. An action-packed sled hockey game is as thrilling as any played in the NHL. Sled hockey is played at local, regional and national levels.
References
Resources
Writer Bio
With degrees in fine and commercial art and Spanish, Ruth de Jauregui is an old-school graphic artist, book designer and published author. De Jauregui authored 50 Fabulous Tomatoes for Your Garden, available as an ebook. She enthusiastically pursues creative and community interests, including gardening, home improvement and social issues.