12 Healthy Food and Fitness Companies That Give Back
Not only is eating healthy food good for you, sometimes it has the added bonus of doing good for the world. More and more companies are making healthy food and fitness products and giving back, making a positive impact on the planet. Whether it's donating profits to a cause, engaging in fair-trade and sustainable agricultural practices or developing products for a specific group of people in need, a lot of food companies are doing good. Here are 12 companies that you can feel really good about supporting.
1. Annie's
A business grounded in using natural and non-GMO ingredients to make great-tasting and convenient packaged foods, Annie's works hard to act as a positive role model for consumers and other businesses. The company concentrates its efforts on connecting people to real food by providing school gardens, sustainable agriculture scholarships and partnering with like-minded organizations. Since starting Grants for Gardens in 2008, Annie's has helped fund more than 300 school gardens across the nation, following the belief that gardens help connect kids to real food and promote healthy habits for life. For 2015, Annie's has dedicated $100,000 in scholarship funds to undergraduate and graduate students pursuing studies in sustainable and organic agriculture. The company also supports FoodCorps, a national network of passionate leaders that direct garden and nutrition education efforts in more than 500 schools across 16 states.
2. Marc Pro
From CrossFit Games athletes to the San Francisco 49ers to the New York Yankees, Marc Pro has become the ultimate recovery-training tool for more than 100 professional and amateur teams. And while the electrical stimulation technology intended for muscle conditioning and recovery has made its way into the hands of some the biggest names in professional sports, it's also in the hands of U.S. armed service members, thanks to Marc Pro and the Resiliency Project. For every four Marc Pro devices that are sold, the company donates one unit to the Resiliency Project, which then gifts them to the U.S. armed services. The Resiliency Project empowers our armed services community and provides it with resources and training with the ultimate goal of stopping veterans from taking their own lives.
3. KIND
Not only are KIND bars a delicious, all-natural, gluten-free snack option, through the KIND Movement, KIND aspires to make kindness a habit and a state of mind. Part of the KIND Movement is KIND Causes, which helps people bring their socially impactful ideas to life through monthly $10,000 grants. The unique part is that it's the community which decides who should receive the grant each month. By voting, each person is committing to carrying out a kind act in his or her own life. Another part of the KIND Movement is KIND Acts, which rewards people for making kind acts. A kind act can be anything from an everyday action to a grand gesture. One example of a kind act is a flower wall, where individuals are invited to pick a flower and pass it on to someone else -- a friend, teacher, coworker or even a stranger.
4. People Water
People Water is a socially minded business with a mission to provide clean and safe drinking water to those in need. The company accomplishes this goal by donating funds from the sales of its products to support clean-water initiatives. Since December 2011, People Water accomplished 11 global clean-water projects, which have generated more than 7 million gallons of clean water for those in need. These projects continue to provide clean water. For example, the company funded a project in India in which it helped local entrepreneurs start their own business of monitoring and repairing hand pumps in the area. The program provides jobs and (most importantly) offers a sustainable solution for clean water, which in turn improves the local economy, health and education.
5. Clover Cloth
Hippie glam? Yes, there is such a thing, and Clover Cloth is living it. This conscious apparel brand uses eco-friendly, 100 percent organic cotton blends to design on-trend lifestyle clothing. In addition to being cool and conscious, Clover Cloth also gives back. With every piece of clothing that is sold, Clover Cloth plants one tree in Africa through the Trees for the Future organization. The company also creates limited-edition pieces, and proceeds from each sale is donated to various charities, including Save the Elephant Foundation and the Pink Fund, a nonprofit affecting powerful change for breast cancer sufferers by offering direct financial scholarships.
6. Happy Family
Happy Family is dedicated to providing families everywhere access to healthy food, with ingredients that help maximize children's development and optimize growth. As part of this mission, Happy Family supports Project Peanut Butter, a nonprofit that seeks to advance the treatment of severe malnutrition -- the single largest cause of child death in the world today -- using effective, locally produced, ready-to-use therapeutic foods. To date, Happy Family has funded more than 1 million meals for starving children in Africa as part of its partnership with Project Peanut Butter. Happy Family also supports The Small Things, where up to 100 children will live at the Happy Family Children's Village in Tanzania at The Small Things orphanage. Happy Family Children's Village contains family-style houses, each holding up to 12 children along with several volunteers and two "mamas," who will care for the same children throughout their time with there. In the U.S., Happy Family supports Healthy Child Healthy World, Feeding American and the March of Dimes.
7. Honest Tea
The nation's top-selling organic bottled tea company, Honest Tea focuses on expanding the reach of organics and using fair-trade ingredients whenever possible. The company sources its ingredients from all over the world and has generated more than $750,000 in fair-trade premiums to reinvest in their supplier communities. One of Honest Tea's highlights from 2014 was the Assam Eye Care Initiative: The company partnered with Fair Trade USA and VisionSpring to provide vision screening to more than 5,000 tea pluckers and community members at the tea estate in Assam, India, where they source their organic black tea. Twenty-four hundred people received a prescription for corrective lenses and a free pair of glasses. Honest Tea employees are also encouraged to volunteer in their local communities: Each employee is given two additional paid "volunteer days" each year to spend at an organization of his or her choice.
8. Good Spread
With every Good Spread natural peanut butter sold, nutrient-rich food is provided to malnourished kids around the world. The company donates packets of a medicine called Ready-to-Use Therapeutic Food (RUTF). These consist of peanut butter, milk and vitamins for kids suffering from malnourishment. The medicine was developed by UNICEF and is an extremely effective way to help kids recover from the fatal stages of severe malnutrition. To date, Good Spread has sent more than 75,000 packets of RUTF to children in Chad and Nicaragua.
9. Lotus Foods
Lotus Foods sells healthy rice products and does a wonderful job of supporting farmers in developing countries. Their grassroots rice revolution "More Crop Per Drop" refers to their special system used for growing rice, System of Rice Intensification (SRI). SRI is a different way of cultivating rice that enables small-scale farmers to double and triple their yields while using 80 to 90 percent less seed, 50 percent less water and less or no chemical inputs. Marginalized women and men farmers and the nonprofit organizations (NGOs) which advocate for their welfare are excited about SRI because it represents an opportunity for more food, more money, better health and more options for a way out of poverty.
10. Project 7
Project 7 makes everyday products (specialty gum and mints) that give back to seven areas for good around the globe: Feed the Hungry, Heal the Sick, Hope for Peace, House the Homeless, Quench the Thirsty, Teach Them Well and Save the Earth. To date, Project 7 purchases have planted more 3.6 million trees, provided more than 2.2 million meals in the U.S., have provided 1 million days of shelter, provided more than 90,000 malaria treatments and provided for 21,000 students through antibullying programs.
11. Love With Food
Love With Food is a monthly subscription services that provides new organic or all-natural snacks delivered to your door every month. For every box sold, the company donates a meal to one of several food banks, such as the Feeding America Network and Share Our Strength: No Kid Hungry. To date, the company has donated more than 600,000 meals.
12. Newman's Own
Maker of more than 200 products ranging from salad dressing to coffee to frozen pizza, Newman's Own is a unique food company that gives 100 percent of its profits to charity through the Newman's Own Foundation. Paul Newman's heart and soul were dedicated to helping make the world a better place, and he once said, "What could be better than to hold your hand out to people who are less fortunate than you are? That's simply the way I look at it." As a result of this passion and commitment, the company has given more than $430 million to charity since 1982, and countless charities have benefitted. For examples of specific organizations that Newman's Own supports, visit newmansownfoundation.org.
What Do YOU Think?
Are you more likely to purchase a product when some or all of the proceeds go to a good cause? Do you know of any other healthy-food companies doing philanthropic work?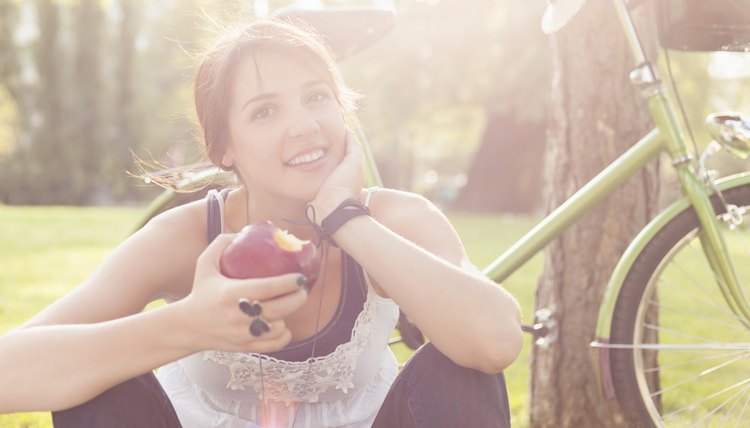 Writer Bio
Patricia Bannan, MS, RDN, is a nutrition writer, frequent expert on TV shows, and author of "Eat Right When Time Is Tight." She is passionate about helping people reach their health and wellness goals. Follow her at www.patriciabannan.com