Companies That Give Grants & Sponsorships to Youth Athletes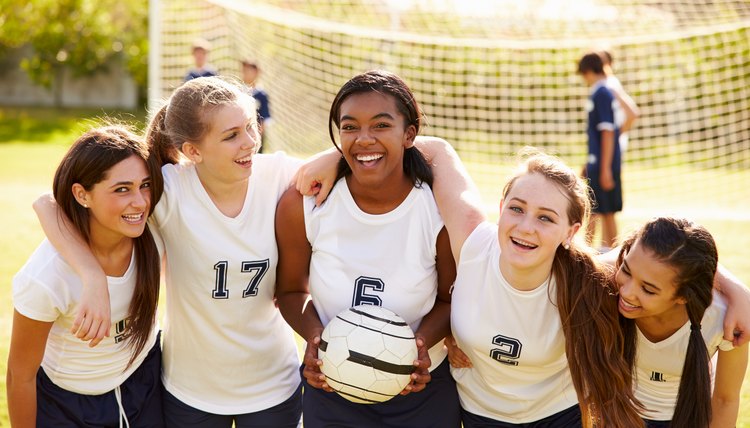 Many popular youth activities, including playing video games, watching television and surfing the Internet, contribute to lifelong health issues such as Type 2 diabetes and obesity. Some companies offer grants to youth athletes, which help encourage children, teens and young adults to live healthier lifestyles and participate in sports in an effort to combat these problems, as well as promote teamwork and hard work.
Finish Line
The sports company, Finish Line, founded the Finish Line Youth Foundation in 1998. This youth program is based on the belief that if kids play sports, exercise and focus on education, they will make good choices and have healthy lives. The foundation emphasizes healthy lifestyles, both in activity and nutrition, as well as teamwork. As of 2011, the Finish Line Youth Foundation offers several grants to youth athletes that range from $1,000 to $5,000.
Liberty Mutual
Liberty Mutual features the Responsible Sports Community Grants, which are designed to sustain youth sports programs. These grants recognize youth teams, clubs and leagues committed to responsible coaching and responsible sport parenting. The $2,500 grants can be uses for team uniforms, equipment and travel expenses. Winners are chosen when members of the community complete an online course and quiz about responsible coaching and youth sports activities.
Nike
Nike awards grants in the form of product donations, such as clothing, shoes and equipment. While Nike does not give product donation grants to individual athletes, the main grant recipients include non-profit organizations and groups committed to social change through sports. The belief behind the grants is that sports help build valuable skills in at-risk youths. These skills include conflict resolution, leadership, trauma relief and equity. As of 2011, Nike invested a minimum of $315 million dollars in product donation grants.
General Mills
General Mills has partnered with the American Dietetic Association Foundation and the President's Council on Physical Fitness, Sports and Nutrition since 2002 to award 50 $10,000 grants to non-profit youth programs, as of 2011. The grant recipients are generally youth programs that teach and encourage kids to develop fitness and good nutrition habits. Some of the youth recipients in 2011 met with nutritionists, exercise physiologists and other health professionals to learn about healthy living in order to become community ambassadors of healthy lifestyles.
References
Writer Bio
Denise Brandenberg has more than 15 years professional experience as a marketing copywriter, with a focus in public relations. She also worked as a recruiter for many years and is a certified resume writer. She holds a Bachelor of Arts in English.