How to Start a Youth Sports League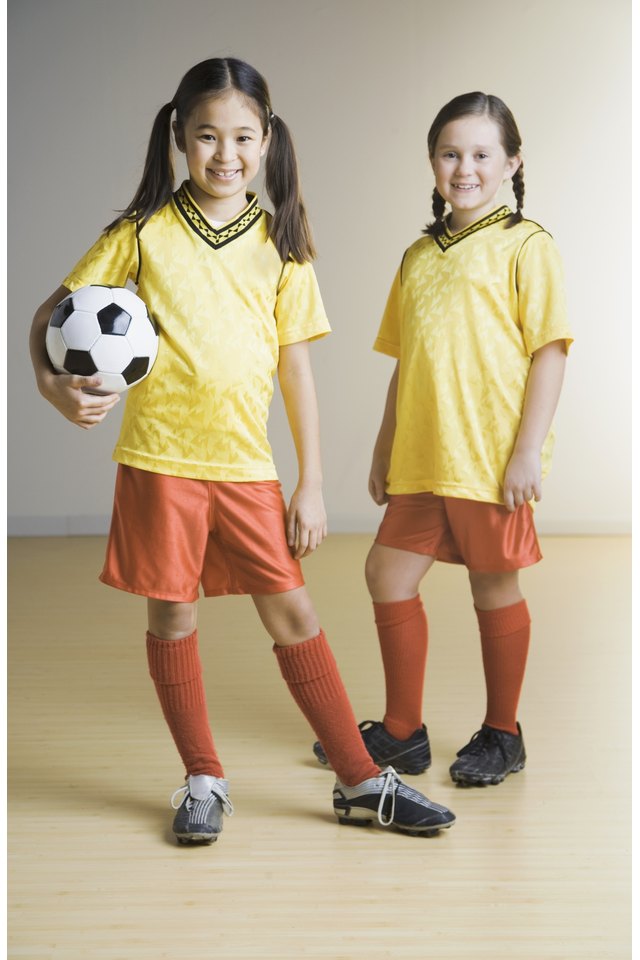 The reward of kids being able to participate in organized sports makes the planning and work worth the effort. Once you've researched and found there are enough interested youth to participate in the league, you'll need to find, and lock down, venues where the kids can play; raise and organize money; recruit coaches; promote the league; set up game schedules; order and distribute uniforms and equipment; and take care of a few legal issues.
Find Venues for Games
Make a master list of all the fields, courts or gyms within your city. Local elementary, middle and high school facilities are an option, but keep in mind that they may be hosting their own sporting events. If you have a community college or university in your city, they may allow you to use their facilities. In addition, your city may have recreational facilities that you can rent. Make your way down the list, contacting the representative of each facility to check if permits are available. For school facilities, you'll need to reach out to the school's athletic director. For a city-owned venue, talk with the recreation department. If a venue is owned by a private business, talk with the facility manager.
Organize and Raise Money
Running a league costs money. You'll need to pay for liability insurance, equipment and uniforms, and possibly for officials and the renting of the facilities. Add up all the expenses of running the league so that you can use that information to determine the registration cost for each player. If you need to raise additional money, approach local businesses or your local professional team to see if they'll act as sponsors. You could also require each team to participate in a fundraiser and bring in a minimum amount of money. Consider charging a minimal fee to those attending games and hosting a snack bar at each game to raise additional funds.
Promote the League and Recruit Help
The success of your league depends on the interest of your local youth. Get the word out by by distributing fliers at schools, youth centers and at coffee shops and other food establishments that families frequent. Create a website for the league. Take out an advertisement in the sports section of your local newspaper. Inquire with your local professional team to see if their players could help promote the league through public appearances. See if the local sports writer will do a story on your league. On the fliers and ads, be sure to note that you're also looking for coaches, volunteers and, potentially, officials. Consider offering a discount on a kid's registration when a parent signs up to coach, volunteer or act as an official. If you have the funding, you could also recruit coaches and officials by offering to pay each a stipend. Request the assistance of your local police department to do a background check on all coaches and volunteers.
Register Participants and Create Teams
Design a registration form for parents to sign up their children. Consider offering both printed registration forms and online registration through a registration website service. The information the registration form needs to elicit includes each participant's name, address, phone number, age, uniform size and emergency contact. Require the registration fee to be paid along with a completed registration form submission. A "Waiver and Release of all Claims and Assumption of Risk" should be included with the registration form. Once you have the youth registered, organize the players into teams and assign each team a coach. Place enough players on each team to accommodate for families regularly being out of town or unavailable so as to limit forfeits. Most coaches will be parents, so be sure to partner the two together.
Organize Schedule and Order Uniforms and Equipment
Create the league's game schedule and distribute it among the teams. In addition, publish the schedule on the league's website. For uniforms, start with your local sporting goods store. They will often assist in the ordering and silk-screen printing of the uniforms and provide you with a reduced price. Consider offering them a deal where they put their logo on the uniform in exchange for a discount. If necessary, you can look to order uniforms online. Your sporting goods store will also be able to assist with equipment and may be able to offer a deal on larger orders.
Get Liability Insurance
You'll need to purchase liability insurance to cover the players, coaches and volunteers of your league. Liability insurance will help cover any legal or medical costs if the league is found responsible for any injuries that occur. Look for insurance companies that specifically offer youth sports insurance.
References
Writer Bio
Kim Nunley has been screenwriting and working as an online health and fitness writer since 2005. She's had multiple short screenplays produced and her feature scripts have placed at the Austin Film Festival. Prior to writing full-time, she worked as a strength coach, athletic coach and college instructor. She holds a master's degree in kinesiology from California State University, Fullerton.