About the Exercise Machines at Snap Fitness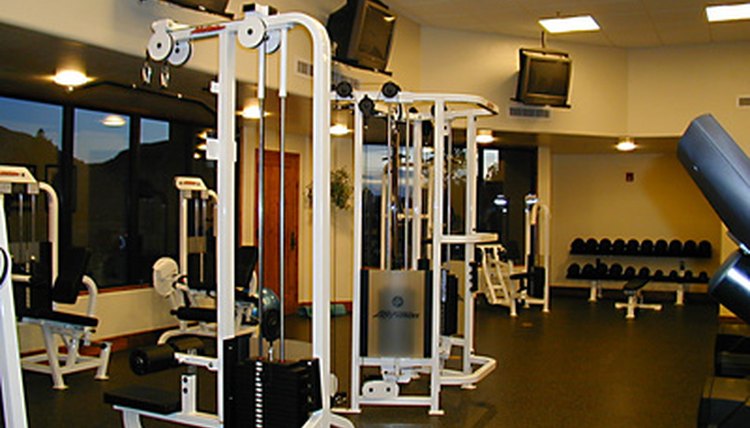 Snap Fitness clubs, situated worldwide, provide an affordable fitness facility that offers a fast, convenient workout. The fitness clubs are open 24 hours a day, allowing you to access the gym on your own schedule. Along with several choices for exercise machines, Snap Fitness clubs offer personal training and tanning beds.
Function
By using the full selection of exercise machines at Snap Fitness, you can accomplish your fitness goals. Resistance training machines are available to build strength, increase muscle mass or tone arms and legs. The cardio equipment is available to burn calories, aid in weight loss and to increase cardiovascular fitness.
Features
Additional features are available on most exercise machines at Snap Fitness. These features allow you to personalize the equipment to meet your needs while increasing the level of enjoyment during the workout. Cardio machines, such as the treadmills and bikes, have a TV theater that keep you entertained during your cardio workout. The weight-training machines have adjustable weight to meet your fitness level with rubber coatings to eliminate excessive noise.
Types of Cardio Equipment
The different types of cardio fitness equipment at Snap Fitness will typically include treadmills, indoor bikes and elliptical machines. Most of the gyms will contain about five to 10 treadmills, depending on the size of the gym. The treadmills will feature shock absorption systems to reduce the impact to your joints with built-in programs to maximize your results. Recumbent bikes are available that feature a backrest and handles to monitor your heart rate. The elliptical machines provide a low-impact cardiovascular workout with pre-programmed workouts for strength training, weight loss or interval training.
Types of Strength Machines
Different types of strength training machines are available to provide single-joint or multi-joint movements. The single-joint movement machines will isolate one or two muscles and consist of machines such as leg extensions and leg curls. Multi-joint movements will train a group of muscles during the exercise and consist of the leg press and chest press machines.
Considerations
Most of the exercise machines will contain instructions that explain how to perform the exercise and the muscles trained. Consult the gym owner or a personal trainer if you have any questions about how to adjust the machine. Increase the resistance and intensity slowly as your fitness level improves.
References
Writer Bio
Based in Nebraska, Jeremy Hoefs began writing fitness, nutrition, outdoor and hunting articles in 2006. His articles have been published in "Star City Sports," "Hunting Fitness Magazine" and RutWear field journals, as well as on the Western Whitetail website. Hoefs graduated with a Bachelor of Science in exercise science from Nebraska Wesleyan University.