Life Fitness Elliptical Vs. Precor Elliptical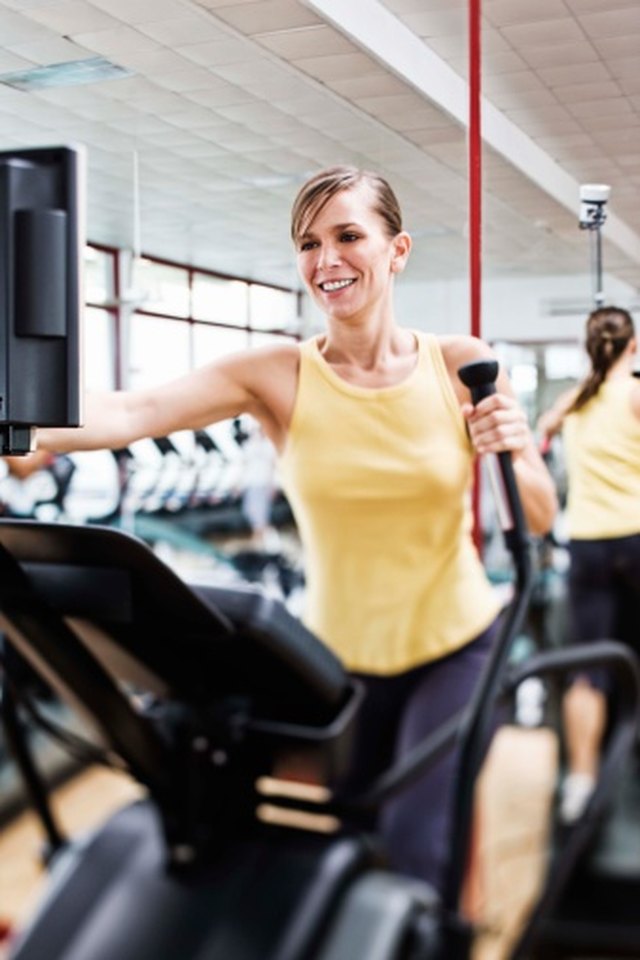 Life Fitness and Precor both produce lines of similar home- and commercial-use elliptical cross trainers. While one could argue that, overall, the Precor ellipticals have fewer features than Life Fitness models, high-end Precor trainers are also priced lower than high-end Life Fitness ellipticals. Both brands offer well-built products with many similarities, so a final choice between them will come down to cost and features.
Function
Both the home and commercial series of Life Fitness and Precor elliptical trainers work on the same premise. Two dependent-motion pedals guide your feet through an elliptical stride, approximating a natural running range of motion. Moving handlebars offer you a chance to work your upper body, too, or you can hold onto stationary handlebars for extra balance support.
Stride Length and Incline
Some Life Fitness elliptical models have fixed stride lengths, but the X8 and X5 home models offer adjustable stride lengths to accommodate different body mechanics. While a few Precor elliptical crosstrainers have fixed stride lengths, most offer variable stride length as well.
In addition to variable stride lengths, Precor's incline-adjustable crossramp, an innovation that Life Fitness ellipticals lack, let you adjust the machine's incline much as you would do with a treadmill, altering both stride length and muscles worked with each stride.
Features
Both Life Fitness and Precor elliptical trainers offer the standard range of features of a modern elliptical cross trainer, including heart rate control, user-customizable and fitness test programs, built-in heart rate monitors and wireless heart rate monitor compatibility. Both Precor and Life Fitness offer self-powered elliptical trainers that don't need to be plugged in; they operate on the energy provided when you pedal.
Standout features for Precor elliptical trainers include an optional in-console television and the adjustable-incline crossramp. Standout features on Life Fitness ellipticals include FM radio-ready and laptop compatible in-console entertainment and workouts designed to simulate real terrain, such as climbing Mt. Kilimanjaro.
Maximum User Weight
Both home and commercial Life Fitness and Precor elliptical trainers support maximum user weights of 350 to 400 lbs., depending on the models chosen.
Cost
Life Fitness home elliptical trainers cost from $1,500 to over $4,000. Commercial models may cost up to $10,000 or more. Precor home models range in cost from $3,000 to over $5,000, while commercial models start at about $5,000.