Swimming With Dolphins in Destin, Florida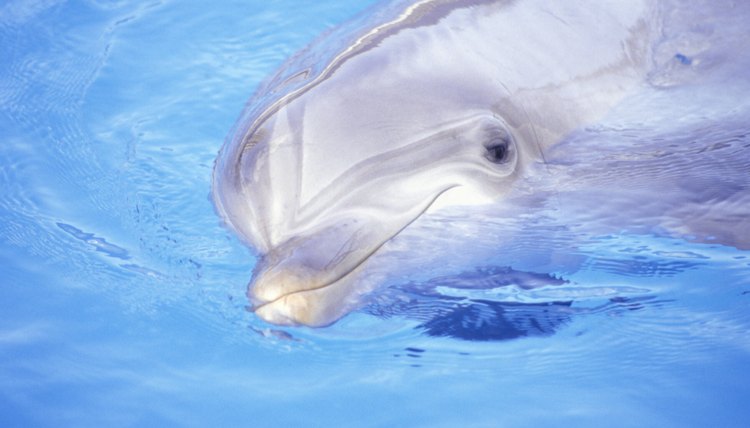 Just off the coast of Destin, Florida--in the panhandle about 45 miles east of Pensacola--you can find pods of bottle-nosed dolphins. These marine mammals have real personality. But if you want to swim with the dolphins, you may be out of luck. Local laws prohibit it, but you can find legal ways to view the dolphins.
Accidental Encounters
The only way to swim with the dolphins in the wild is to do so by accident. If you are swimming in the Gulf of Mexico, you might find yourself with the dolphins by chance.
Glass-Bottom Boats
Several businesses in the area offer glass-bottom boat rides and try to find pods of dolphins. These rides typically run about an hour to an hour-and-a-half and go out in the gulf just far enough to search for the dolphins. Some have sonar on board to help locate the pods. Even if you do not find dolphins, there is some educational material on the boat and you can view birds and fish.
Other Dolphin Cruises
Watersports companies offer various adventures that let you view dolphins. One option is a half-day cruise to snorkel and look for dolphins. Another option involves personal watercraft excursions to view and photograph dolphins. If you prefer to rent the watercraft yourself, if you're younger than 22, you must have a Florida boating license or pass a boating test to rent jet skis.
Controlled Environment
In neighboring Fort Walton Beach, the Gulfarium theme park offers a dolphin encounter. You can stand in the shallow end of a pool and the dolphins who perform in the park's shows swim up to you. Children must be at least 7 years old and 4 feet tall to participate.
Why It's illegal
The main reason it is illegal to swim with the dolphins is the dolphins' safety. If dolphins become too comfortable with human contact, they might approach boats and could get injured by debris or boat propellers, according to the Florida Department of Environmental Protection, or they might become entangled in fishing nets.
References
Resources
Writer Bio
Mal Van Valkenburg has been a journalist since 1986 and is working in Nevada. He was the sports editor of the "Niagara Gazette" in Niagara Falls, N.Y. During this time, he covered such events as the Super Bowl, World Series, NCAA basketball, Buffalo Bills and the NHL. Valkenburg holds a Bachelor of Arts in mass communications at the University of South Florida.