Specifications of the Nordic Track EXP1000S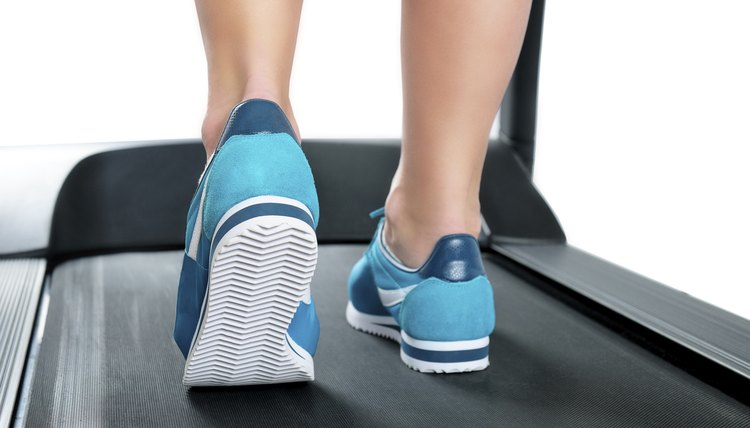 The NordicTrack EXP1000S was sold in the early 2000s with a retail price of $1,000 or less. If you don't have time to drive to the gym for regular workouts, the EXP1000S may suit your home fitness needs, as it folds up to save space when it's not in use. Consider all of the treadmill's characteristics so you know what you'll receive before you purchase an EXP1000S.
Running Area
The EXP1000S provides a 20-inch by 55-inch cushioned running area, which is wide and long enough to accommodate almost every running stride.
Display
The EXP1000S displays elapsed time, laps, distance, incline, speed, calories burned and pace. If you hold the built-in handgrip sensors, it'll also display your heart rate.
Programming
The EXP1000S has two pre-programmed workouts, plus you can manually control your speed and incline. IFit compatability means you can download workouts designed by personal trainers, who then coach you through the workout as your treadmill automatically adjusts the speed and incline.
Speed
The EXP1000S has a 1.5 horsepower continuous duty motor, which provides a minimum belt speed of 0.5 mph and a maximum speed of 10 mph. This treadmill also adjusts between a 0 and 10-percent incline in 0.5-percent increments. If you're a serious runner, you may want to purchase a treadmill that provides an 11 to 12 mph maximum speed. But for more exercisers, a top speed that forces you to run a 6-minute mile is quite enough.
User Weight Limit
The maximum user weight limit for the EXP1000S is 250 lbs.
Folding
You must be able to safely lift 45 lbs. in order to fold the EXP1000S for storage.