Proform 835QT Treadmill Specifications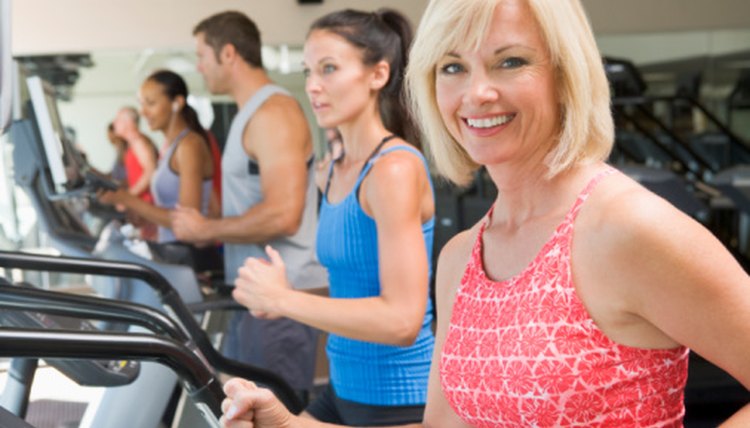 ProForm treadmills were the first treadmills to include a fold-up design and are consistently sold online and at retail stores like Sears as a middle-cost treadmill. Many past models of ProForm treadmills, including the 835QT, are discontinued by the company and are sold exclusively as second-hand merchandise.
Basics
The running deck of the ProForm 835QT is cushioned to reduce shock while you run and can be inclined up to a 10-percent grade. The running area of the deck is 19-inches wide by 44-inches long. The overall footprint of the machine is 34-inches wide by 71-inches long when fully assembled, and it stands just less than 5-feet tall. The treadmill can reach a top speed of 4.5 mph while supporting a user of 250 lbs. or less.
Display Console
The ProForm 835QT comes with a display console that gives you feedback on how long you have been running, the amount of calories you have burned and your overall speed. You can also use the console to select one of six programmed workouts. There are two workouts at each of the low-, medium- and high-intensity levels. Each of the programmed workouts takes you through various speed and incline intervals to maximize your calorie burning.
Comfort Features
To make your workout more enjoyable and effective, the ProForm 835QT comes with a number of luxury features. Above the display console is a book and magazine rack so you can read while you exercise. The main handlebar of the machine includes two grip pulse sensors to accurately monitor your heart rate, and an LED display in the center of the console indicates the distance you have traveled around a 400 m track.
The ProForm 835QT is also compatible with ProForm's iFit website. When connected to your computer through the audio and visual input jacks, you can download countless workout programs to your treadmill. These programs then control the speed, incline and time you workout to help you achieve specific workout goals. You can also hook the treadmill up to a portable CD player through the audio input jack.
References
Writer Bio
Writing professionally since 2005, Ryan Haas specializes in sports, politics and music. His work has appeared in "The Journal-Standard," SKNVibes and trackalerts. Haas holds a Bachelor of Arts in English and creative writing from the University of Illinois.