Review of NordicTrack 1300 Commercial Elliptical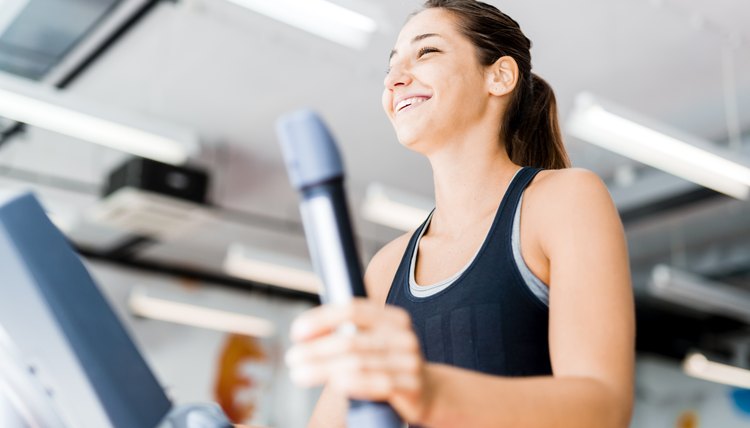 Despite what the name suggests, the NordicTrack Commercial 1300 elliptical trainer is intended for home use. Treadmill Doctor warns that this elliptical trainer won't last long-term if you're a competitive athlete, but declares the Commercial 1300 "a great value" if you're "an average Joe that just wants to lose weight." Although no model in the Commercial 1300's budget price range is without its flaws, it has still received consistently positive reviews.
Stride Length
Stride length is one of the most critically important features on an elliptical trainer. If the stride is too short you'll be confined to a choppy, up-and-down movement. If it's too long, you'll feel uncomfortably extended with every stride. Your ideal stride length varies according to your leg length and natural running or walking gait.
The NordicTrack Commercial 1300's fixed 18-inch stride puts it just inside the low end of the ideal stride range; it should be able to accommodate a variety of users.
Resistance
The Commercial 1300 comes with 16 levels of adjustable magnetic resistance. Pushing a button on the elliptical console prompts the machine to move a magnet slightly closer to, or further from, a flywheel. This creates more resistance or less resistance, respectively, against your pedaling.
Programming
The Commercial 1300 offers 16 built-in workouts that automatically adjust the elliptical's resistance for you. The 1300 also has two customizable workouts that you can save for later use, or you can choose to control the elliptical's resistance manually.
Features
A power-adjust incline ramp is one of the Commercial 1300's most notable features. Adjusting the incline allows you to focus your workout on different muscle groups. You can select the incline angle manually, or just press the appropriate muscle group on the console display; the elliptical will automatically adjust to the proper incline to work that muscle group.
The Commercial 1300 also has a handgrip heart rate monitor, and is compatible with wireless chest strap heart rate monitoring. An in-console workout fan helps cool you as you work out.
Specs
The Commercial 1300 is no longer in production, but has listed for a variety of prices over the years, ranging from $699 to $999. It originally came with a lifetime frame warranty and 90 days of parts and labor coverage. The maximum user weight limit is 350 lbs.