The Best Snow Skis for East Moguls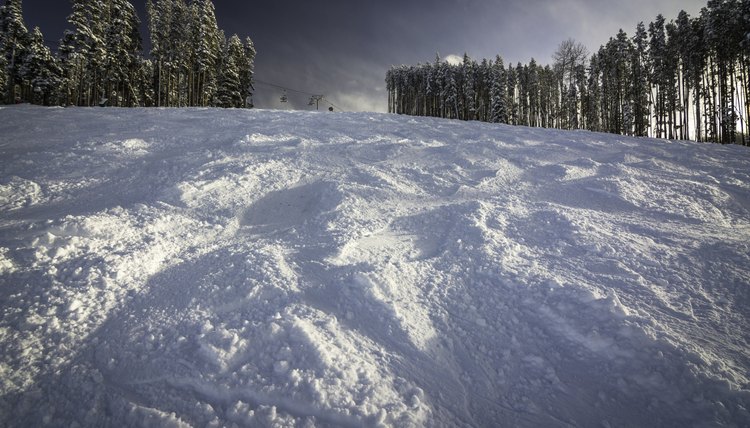 What to Look For
Specialized mogul skis need to be narrow, particularly for mogul skiing on the East Coast, where the bumps and snow are harder than out West. Look for a ski no wider than 70mm at the waist. Efficient mogul skiing is about quick transitions from edge to edge, so the narrower the better. Look for a shorter ski as well. Longer skis are good for speed, but moguls are about turning, and a short ski will be much more maneuverable in a tight mogul runs. A ski with a large amount of sidecut will have a shorter turning radius (the arc a ski would make if placed on edge and allowed to trace a circle), and be faster to turn.
Common Pitfalls
Good mogul skis are softer, so that they will absorb the impact of the bumps better. Don't expect an all-mountain carving ski to excel in the bumps. On the East Coast, wider skis are a poor choice, and this is particularly true in the bumps, so don't bring a powder ski out into mogul fields. A traditionally designed ski will function better in bumps than a twin tip, as it will provide more stability in the turns.
Where to Buy
Most local ski shops are a good place to start when looking at mogul skis in the East, as they will carry a selection of narrower-waisted skis ideal for Eastern ski conditions. Larger chains, such as Eastern Mountain Sports and REI, often have an array of skis ideal for Eastern moguls.
Cost
Mogul skis typically cost between $500 and $1100. End-of-season sales sometimes offer an opportunity to get good deals on last year's mogul skis. Many of the big traditional ski companies have excellent mogul skis. K2's Mamba Mogul is a nimble performer in the bumps. Hart's F17 World Cup Mogul is used by many skiers who compete on the mogul circuit. The Volkl Wall Mogul, is another popular competition mogul ski.
References
Writer Bio
Candace Horgan has worked as a freelance journalist for more than 12 years. Her work has appeared in various print and online publications, including the "Denver Post" and "Mix." Horgan holds a Bachelor of Arts in English and history.