Proform 485 Treadmill Specs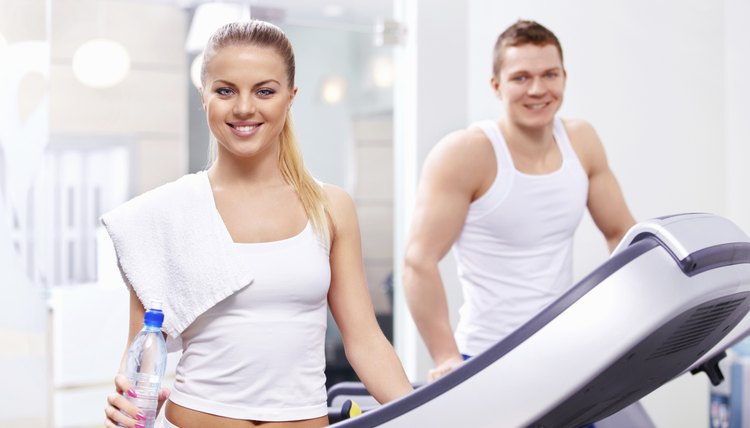 The 485 Crosswalk by ProForm was manufactured in 2009. It is a foldable treadmill designed for in-home use. The Crosswalk line, which ProForm still produces in late 2010, includes upper body arm levers so you get a total body workout. The 485 has a complete line of features, including preset workouts and a power incline.
Function
The upper body arms are what distinguish a Crosswalk machine from other treadmills. As you walk, you move the arm levers in sync with your walking. This design provides you with a total body workout. You can change the resistance of the Crosswalk arms to increase or decrease the intensity of the upper body workout. Turn the resistance knobs on the treadmill uprights to adjust the tension. ProForm claims you can burn up to 50 percent more calories by combining upper body arm movements with your regular treadmill workout.
Design
The 485 Crosswalk features ProForm's Space Saver design. Raise the deck up to lock the unit into a vertical position for easy storage. The 1.5 horsepower motor supports speeds from 0 to 10 mph. The 485 Crosswalk has a power incline ramp adjustable up to 10 percent. The LCD display includes a fan to keep you cool and pulse sensors to detect your heart rate.
Features
The 485 Crosswalk features six built-in workout programs: three Crosswalk workouts and three standard workouts. The treadmill will automatically adjust the speed and incline settings for you during these programs. Quick speed buttons on the console allow you to change the speed of the belt with one press of a button. The display shows elapsed time, approximate calories burned, distance and speed. You can set the 485 Crosswalk to mph or kph.
Warranty
The drive motor on the 485 Crosswalk is warranted for one year, the frame for 10 years. Parts and labor are also covered for one year from the original date of purchase. The warranty is not nontransferable; it only applies to the original owner.
Size
The 485 Crosswalk has a running area 16 inches wide and 50 inches long. The maximum user capacity is 250 lbs. To fold the treadmill, you lift the deck up into a vertical position. ProForm says you must be able to lift 45 lbs. to safely store the treadmill.
References
Writer Bio
Based in Austin, Texas, Jolie Johnson has been in the fitness industry for over 12 years and has been writing fitness-related articles since 2008 for various websites. She received her Bachelor of Arts in English and philosophy from the University of Illinois.