Stairmaster Levels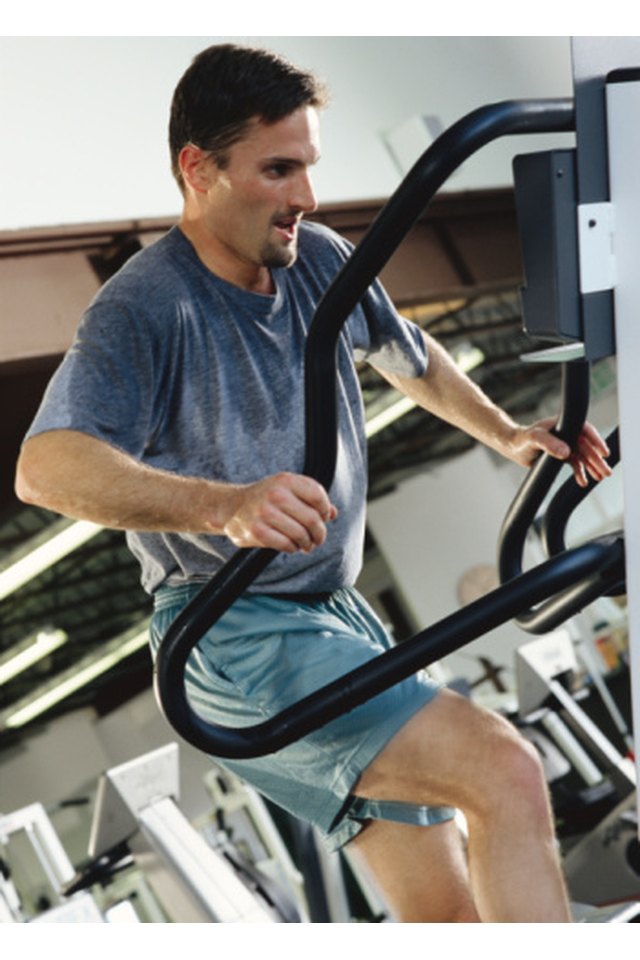 Stairmasters were introduced in 1983 as an exercise machine that resembles the motion of climbing stairs. Nautilus, an exercise equipment manufacturer, produces Stairmaster stair steppers for home and commercial use. Stairmasters use platforms and pedals that rotate to provide a cardiovascular and strength training workout. To vary the workouts, Stairmasters feature different workout programs, resistance levels and speed.
Function
Stairmasters resemble climbing stadium stairs and can be found in gyms, homes and fitness clubs. But the various Stairmaster levels provide a customizable workout based on your fitness level and fitness goals. For example, if your target heart rate is 150 beats per minute, you can adjust the resistance and speed to maintain the heart rate to achieve the best workout results.
Features
An LED console allows you to change the levels of resistance and speed during the workout along with tracking workout data such as distance traveled, calories burned, floors climbed and time. You can choose from four to seven built-in workout programs depending on the Stairmaster model that automatically change the levels of resistance and speed throughout the workout. These built-in workouts include manual, aerobic training, intervals, steady and fat burn.
Variability
Along with the built-in programs, you have resistance and speed control buttons to adjust the levels on the Stairmaster. Twenty resistance levels adjust the pressure required to move the steps. Speed controls vary from 26 to 174 steps per minute and are controlled with an electronic braking mechanism. Both speed and level adjustments can be changed during the workout.
Benefits
With increased resistance and speed, you have the potential to lose proper mechanics that can lead to injuries or decrease the effectiveness of the workout. As a result, Stairmaster uses a patented, independent pedal geometry that is designed to promote biomechanically correct movement. Another benefit to the various levels on Stairmasters is the full range of motion achieved during each step from the patented four-bar linkage to the pedal arms.
Considerations
Always consult a physician before starting an exercise program or using a Stairmaster. Personal fitness trainers can help you learn how to change the levels on the Stairmaster along with writing a personalized workout program using the stair stepper. With the variety of models offered by Stairmaster, choose the machine that matches your individual fitness goals and interests.
Writer Bio
Based in Nebraska, Jeremy Hoefs began writing fitness, nutrition, outdoor and hunting articles in 2006. His articles have been published in "Star City Sports," "Hunting Fitness Magazine" and RutWear field journals, as well as on the Western Whitetail website. Hoefs graduated with a Bachelor of Science in exercise science from Nebraska Wesleyan University.