Online Dance Aerobic Workouts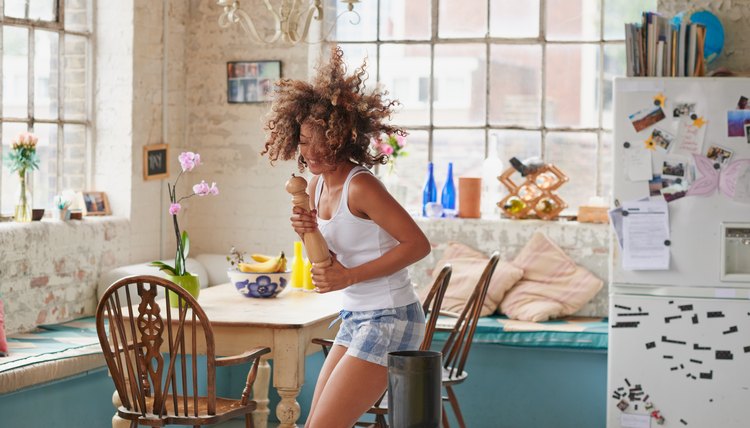 If you've ever taken a Zumba class, then you know how much fun it can be to shake your tail feather — even if your moves leave a little something to be desired. Dance aerobics, such as Zumba, are a fun and effective way to get fit, burn calories, and get your heart pumping.
The American College of Sports Medicine recommends that healthy adults get at least 30 minutes of moderate-intensity physical activity (working hard enough to break a sweat, but still able to carry on a conversation) five days per week or 20 minutes of more vigorous activity three days per week.
Despite the amazing benefits of aerobic workouts, many people struggle to make it to the gym for that 4 p.m. class. In fact, according to a 2017 survey done by Statistic Brain Research Institute, 67 percent of people with gym memberships never use them. The good news is, you don't have to leave your house to get your moves on. With thousands of online workout videos offered for free (or low cost), there's no need to renew that unused gym membership.
YouTube
Just type "dance aerobics" in the search bar on YouTube, and you will uncover tons of dance aerobic workouts guaranteed to meet all your fitness needs. With everything from Zumba and strip-tease to ballroom dancing and belly dancing, these videos are fast-paced, fun, and available 24/7. Here are just a few of the thousands of dance aerobic workout videos available on YouTube.
BeFit! : With BeFit, you get access to some of the top fitness trainers like Denise Austin, Billy Blanks Jr., and Keaira LaShae. Try the 30 Minute Total Body Burn Cardio Dance Workout With Denise Austin. This 30-minute workout is an explosive, fat-burning dance routine that tones the entire body.
Dance with Julianne Cardio Ballroom: If you've ever wanted to try ballroom dancing, then here's your chance. Julianne Hough takes you step-by-step through this fun workout that doesn't require any ballroom experience.
Amazon Prime
If you have an Amazon Prime membership, you can access a variety of workout videos that range between 20 to 30 minutes. Amazon offers free videos to members, but if you want the higher quality workouts, like those from Tracy Anderson, you're going to have to shell out a few dollars.
There's an App For That
Expect to get sucked in when you visit the iTunes store for dance aerobic videos. You name it, there's an app for it. Prices range from free to an average cost of $9.99. Some of the more popular dance aerobic apps include:
Zumba Dance: Dance along to the hottest Zumba instructors and routines with these workouts that range from 20 to 60 minutes.
iDance: This app teaches you popular dance steps while working and toning your body.
Pocket Salsa: This app has over 120 easy to follow videos that get you moving and burning calories.
References
Writer Bio
Sara Lindberg, B.S., M.Ed., is a freelance writer focusing on health and fitness. She holds a Bachelor's of Science Degree in Exercise Science and a Master's Degree in Counseling. Her work is published in LIVESTRONG, Men's Health, Runner's World, Bicycling Magazine, SheKnows, Healthline, Active.com, HealthyWay, Yahoo Health, Bodybuilding.com, and many more.