What does fact checked mean?
At SportsRec, we strive to deliver objective content that is accurate and up-to-date. Our team periodically reviews articles in order to ensure content quality. The sources cited below consist of evidence from peer-reviewed journals, prominent medical organizations, academic associations, and government data.
The information contained on this site is for informational purposes only, and should not be used as a substitute for the advice of a professional health care provider. Please check with the appropriate physician regarding health questions and concerns. Although we strive to deliver accurate and up-to-date information, no guarantee to that effect is made.
Free Step Aerobics Routines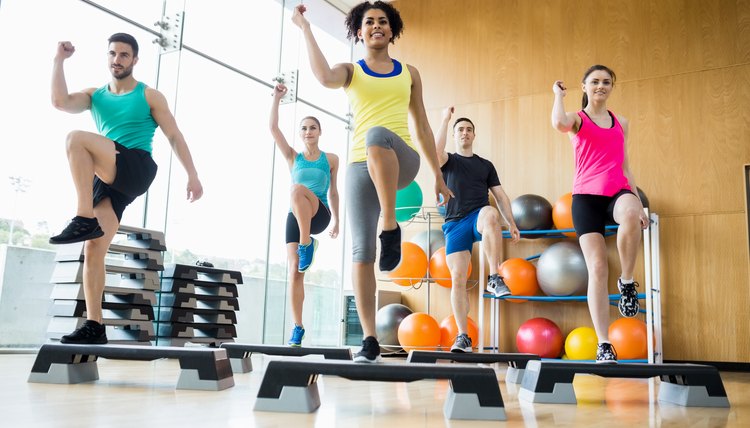 Step aerobics has gone through a lot of changes since its inception in 1989. What was once simply stepping up and down on an elevated platform has morphed into full-on choreographed dance routines or programs that mix basic stepping with high-intensity calisthenics, such as burpees and push-ups.
Whether you're an instructor looking for a few creative ways to amp up your step aerobics routine or a participant hoping for an inexpensive workout, the internet provides a number of resources that offer free step aerobics routines.
YouTube
The video website Youtube offers hundreds of free step aerobics workout, many of which are led by well-known fitness professionals, including Keli Roberts and Cathe Friedrich. Browse through a search of "step aerobics" and you'll find vintage videos from the 1990s — if you prefer an old-fashioned approach — or more modern hip-hop and HIIT (high-intensity interval training) workouts.
Within Youtube, you can also find channels specifically dedicated to fitness. For example, the BeFit channel offers workouts from Denise Austin and other favorite trainers that include step aerobics routines. Reebok Fitness also post free step workouts on Youtube.
Fitness Blender
Fitnessblender.com is a site dedicated to making fitness accessible to all, regardless of your income level or gym accessibility. The site offers hundreds of free online workout videos, including step aerobics routines. The videos range from 5 to 90 minutes in length, with short circuit style workouts available, such as a 10-minute powerful step aerobics challenge or a 20-minute thigh and butt blaster using the step. They provide text to support the videos, so you can get a thorough understanding of each workout, too.
Free Step Aerobics Routines
Blogs
Fitness professionals often have blogs to promote their business. On these pages, you can find free workouts that include step routines. For example, Jenny Ford Fitness provides a 30-minute free video for beginners, while Jessica Smith TV has a free 30-minute indoor step and stride workout. When checking out blogs, always research the fitness professional's credentials to make sure it's worth your time.
References
Writer Bio
Andrea Boldt has been in the fitness industry for more than 20 years. A personal trainer, run coach, group fitness instructor and master yoga teacher, she also holds certifications in holistic and fitness nutrition.