Gymnastics Rules for What to Wear on the Trampoline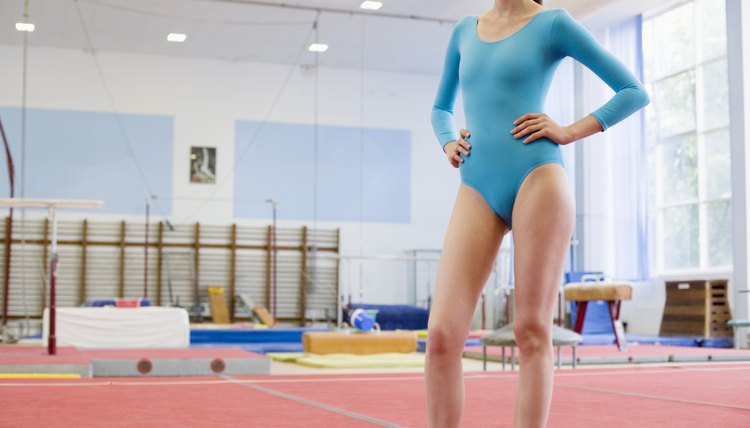 Whether you're enjoying fun times on the trampoline at the gym, using it for tumbling exercises or taking a trampolining class, appropriate attire is essential. While your gym may have its own guidelines, simple rules apply for gymnasts of all ages and can allow you to have fun exploring jumps and flips on the trampoline.
Boys
In a non-competitive setting, boys typically wear shorts and a T-shirt in gymnastics classes and on the trampoline. Choose comfortable fabrics with some stretch, including traditional elastic waisted gym shorts rather than denim or twill, and tuck the shirt into the shorts to keep it in place during flips. Avoid loose clothing, shirts that may cover the face if you're upside down, or sneakers.
Girls
Girls can opt for a leotard and bike shorts, a unitard, a leotard alone or with gym shorts or wear shorts and a tucked in T-shirt on the trampoline. Underwear, including a sports bra if appropriate, can be worn under leotards. Long hair should be in a ponytail, braids or a bun to keep it up and out of the way. Braids can reduce bulk on the head during rolls and other exercises in a tumbling or trampoline class. Remove jewelry before using a trampoline.
Competition
In competition, girls and women wear a leotard without shorts or leg coverings on the trampoline and during other gymnastics events. Girls can choose a sleeveless or long sleeved leotard in competiti. Boys and men wear a fitted, leotard style tank and gymnastics pants or shorts. Team uniforms typically include coordinating variations for boys and girls.
Shoes
While many gymnasts opt to go barefoot on the trampoline, beam shoes designed especially for gymnastics are an option. These light, flexible shoes may increase comfort and reduce slipping on the trampoline. Socks are not appropriate and beam shoes should not be worn outside of the gym.
Writer Bio
With a master's degree in art history from the University of Missouri-Columbia, Michelle Powell-Smith has been writing professionally for more than a decade. An avid knitter and mother of four, she has written extensively on a wide variety of subjects, including education, test preparation, parenting, crafts and fashion.