How Has Soccer Affected the World?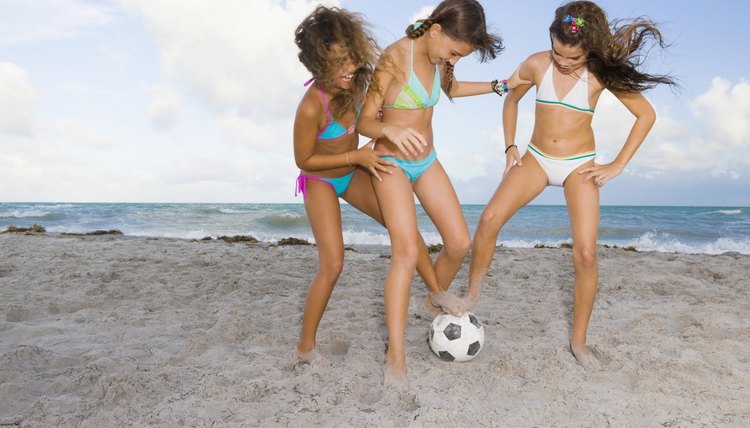 With 265 million active players, soccer is bound to have effects in societies at large. The game arouses passionate devotion in its fans and great riches for its players and team owners, with impacts that can uplift or disrupt lives and nations.
England
Modern soccer was born in England in 1863 when a group of players agreed on rules for a kicking game. The simplicity of soccer, with its 17 rules and need for only a ball and a patch of ground, allowed players of humble origin to play and excel at the game. Soccer became linked to Britain's class system, as the working class gravitated to "football" while the upper classes preferred cricket and rugby. From the 1960s onward, hooligans fueled by heavy drinking and sometimes nationalism rampaged at and near soccer stadiums. Fans organized themselves into command-and-control structures called "firms" attached to specific clubs to engage in ritual combat.
Continental Europe
Soccer made its way across the English Channel to become wildly popular in Continental Europe. During the 1914 Christmas truce of World War I, German and British troops put down their weapons and played a soccer game. German and Dutch fans in the 1980s and 1990s also engaged in hooliganism, and in 1985 English clubs and fans began a five-year ban from continental play after a wall collapse during violent riots at a Brussels stadium killed 39 fans.
Africa
Mahatma Gandhi realized soccer's appeal to the disenfranchised. Before moving to India to lead its independence drive, in 1904 he established soccer clubs, each named the Passive Resisters Soccer Club, in Durban, Pretoria and Johannesburg. He is credited with involving non-whites in sporting activities, laying a foundation more than a century later for the 2010 World Cup, held in South Africa.
As of 2021, an more than 1,000 African soccer players make their living in European pro leagues. Along with Brazil's 5,000 pros in Europe, they provide a talent upgrade to clubs at all levels.
Latin America
Soccer passions burn brightly in Latin America. Stadiums such as Mexico City's 105,000-capacity Azteca create a hostile environment for visiting teams trying to qualify for the World Cup.
In 1969, Salvador and Honduras went to war for four days in the wake of a violent World Cup qualifying match.
Colombia's national squad performed exceptionally well in the 1980s and early 1990s, with improvements funded by drug lords who created training camps and improved national soccer standards. Tragedy ensued with the slaying of Colombia phenomenon Andres Escobar after he accidentally committed an own goal in a 1994 World Cup match against the United States. The region also features success stories, such as Brazil's Ronaldinho, who earns $35 million a year and inspires millions of aspiring players in his home country.
United States
Though soccer swiftly arrived in the United States right after its invention in England, the game remained in the shadows of baseball and basketball.
In 1996, American women vastly increased appreciation for the sport with a gripping gold-medal performance at the Olympic games in Atlanta. Ranked No. 1 in the world as of 2021, the United States dominates women's soccer at the Olympic and international levels. Stars such as Megan Rapinoe, Carli Lloyd, Alex Morgan and Abby Wambach strive to inspire young female athletes.
References
Resources
Writer Bio
An award-winning writer and editor, Rogue Parrish has worked at the Washington Post, the Baltimore Sun and at newspapers from England to Alaska. This world adventurer and travel book author, who graduates summa cum laude in journalism from the University of Maryland, specializes in travel and food -- as well as sports and fitness. She's also a property manager and writes on DIY projects.