What Is the Difference Between Latin American & European Soccer?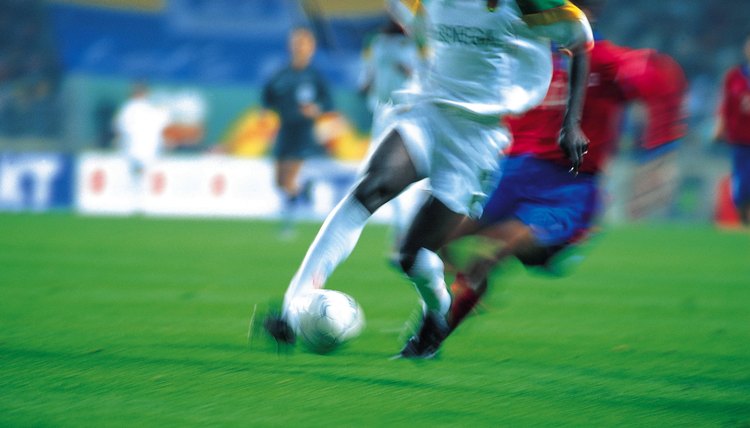 More than a century of competitive world soccer has shaped the perceived differences between Latin American and European soccer styles. Some of these generally accepted differences have almost become stereotypes, surviving despite the continually changing nature of the modern game. However, basic soccer philosophies differ between cultural regions, and both Europe and Latin America possess their own fundamental styles.
Style of Play
Latin American teams traditionally play an open style of soccer. The style of play is free-flowing, and the focus is on attack. In comparison, the general view of European play is one of greater discipline and less freedom of expression. European tactics tend to focus on denying the opposition space in which to move, resulting in a tighter and more cautious approach. These are general overviews, and ones that the modern game is perhaps eroding. The 21st century has seen Latin American teams such as Brazil and Argentina tighten up their defensive play, often at the expense of truly open soccer. In contrast, the German national team, once known for its rigid efficiency, displayed an open and attacking style of soccer during the 2010 World Cup.
Technique
Latin American soccer players are renowned for their technical abilities. They are confident with the ball at their feet and happy to take on opposing defenders one on one. Latin American soccer players move the ball spontaneously and with many individual-based plays. European soccer does not emphasize individuality to such an extent. Coaches focus upon team play and encourage direct passing between players rather than technical trickery. Obvious exceptions to this general rule include Spain, for example, which won the 2010 World Cup with a showy display of technical football.
Flair
Lying somewhere beyond technical ability is natural flair, something that Latin American players possess in abundance. The Brazilians are the kings of style, and their passion for doing the unexpected seems to have spread throughout the entire Latin American region. Pele, Diego Maradona, Ronaldo, Ronaldinho and Lionel Messi are just a few names on a long list of Latin American showmen. Europe has also produced its fair share of flair players such as Zinedine Zidane and Cristiano Ronaldo, but most fans and pundits still look upon Latin America as the home of flamboyant soccer.
Goalkeepers
Some of the greatest goalkeepers of all time have come from Latin America. Ubaldo Fillol and Amadeo Carrizo from Argentina, Gilmar from Brazil and Jose Luis Chilavert from Paraguay are all notable examples. However, Latin American goalkeepers have a reputation for eccentricity and unreliability, thanks largely to some woeful performances by Latin American goalies in World Cup competitions. As for eccentricity, no goalkeeper can rival former Colombian international goalie Rene "El Loco" Higuita. Higuita was known for dribbling the ball up the pitch, scoring goals from free kicks and, most famously, the Scorpion Kick save. Despite being a hugely popular and entertaining player, his antics didn't help restore the global reputation of Latin American goalkeepers.
References
Writer Bio
Anthony Grahame has been a writer for more than 15 years. He began writing professionally online in 2008. He has a degree in English literature from the University of Sussex and is an experienced traveler and travel writer. His work has been published on a variety of well respected websites including "Living in Peru".