Which Quad Skate Wheels Are Best for Asphalt Skating?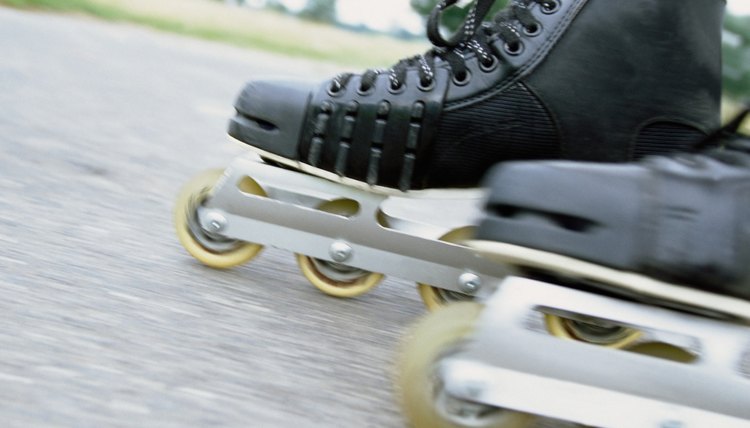 A pair of quad skates can provide you the freedom to explore your city -- but that journey should always start with the right equipment. Without it, you could find yourself falling or otherwise hurting yourself while in a location that is less than ideal. When you skate on asphalt, your main concern should not necessarily be with the brand of skate wheels, but with the type of wheels you're using.
The Makeup of Asphalt
Asphalt is perhaps one of the most challenging surfaces on which to skate. It's a mixture of sand, gravel and stones held together by asphalt "cement." The little stones in the material often come loose, meaning you may have to roll over a lot of little obstructions to skate without incident. Being able to skate on asphalt, therefore, requires a very different wheel than the ones you usually use on an indoor track or rink.
The Softness Factor
Skate wheels come in varying levels of softness, called the "durometer" of the wheel. As a general rule, the softer the wheel, the more forgiving it will be on surfaces with little stones, like asphalt. A number on the skate wheels -- which run from 74 to about 105 -- indicates the durometer of the wheel. Lower numbers are softer wheels, so they're ideal for outdoor skating, suggests Cherri Blaster, a founding member of the Lethbridge, England, roller derby league. Blaster uses skates with a 78 durometer for outdoor skating.
Height and Width
The height and width of the wheel are also a factor. Taller wheel sizes make for a smoother ride. Wide wheels provide a wider base of support. If you're a new or average skater, then,choose the softest, tallest and widest wheel you can afford. If you're an advanced skater, you might be able to choose a shorter and narrower wheel, but you should always test drive them first.
The Cost Factor
Soft, tall and wide skates may be the best option, but they can also cost a lot of money and may wear out really quickly due to the unforgiving nature of asphalt. When it comes to picking the best skate wheels for asphalt, Ivanna S. Pankin, a skater from the San Diego Derby Dolls, recommends that you get the cheapest, hardest pair of indoor skate wheels you can afford so that you won't have to worry when they get destroyed. Pankin recommends the Atom, Sure Grip, or Radar brand skate wheels for skating on asphalt.
Writer Bio
Nicole Vulcan has been a journalist since 1997, covering parenting and fitness for The Oregonian, careers for CareerAddict, and travel, gardening and fitness for Black Hills Woman and other publications. Vulcan holds a Bachelor of Arts in English and journalism from the University of Minnesota. She's also a lifelong athlete and is pursuing certification as a personal trainer.