Which Cycling Shoes Run Narrow?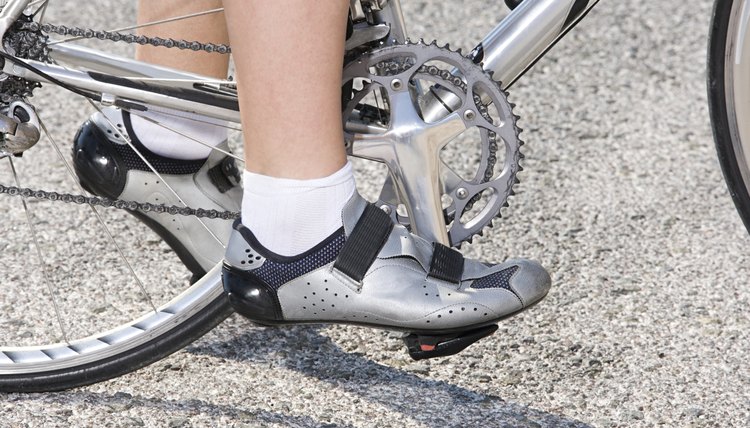 Just as bike fit is critical to a cyclist, so too are properly-fitted shoes. Cycling shoes aren't designed for walking around in; rather, a stiff, hard sole provides a platform for attaching the cleat to the pedal to maximize pedal efficiency. If you have a narrow foot, finding the right fit may be more challenging, but cycling shoes are available in a variety of widths to fit the needs of any cyclist.
Proper Fit
To get the right fit for your narrow foot, try on shoes after you've been walking around or at the end of the day. Your feet naturally swell with movement, such as pedaling, so a shoe that fits perfectly when you've been sedentary may be too snug when you become active. Once you have the shoe on, strap it snugly and check to see of the material on the top of the shoe puckers at all -- if it does, your foot doesn't have enough width or volume to fill it. Also, run your thumb and index finger along the front of the toe box. If you're able to pinch the material, the shoe is too wide.
For Narrow Feet
For narrow feet, Italian shoes may be a good option, as these often run more narrow than U.S.-manufactured shoes. Remember that European shoes follow a different sizing system than shoes made in the U.S. Instead of relying on a conversion chart to determine the right size, go to a shop and actually try different sizes on. Many models of cycling shoes come in narrow widths and half sizes, so take your time to find a shoe that fits your narrow foot perfectly.
Go Custom
High-end, off-the-shelf cycling shoes often have insoles and uppers that mold to your foot over time and as the materials heat up. However, if you want the best possible fit, seek out a manufacturer that builds custom shoes. To have a custom pair created, a professional will take a mold of your foot and craft a shoe specifically designed for the dimensions of your feet.
Keep in Mind
When looking for the right shoe for your narrow foot, there are a couple of additional things to keep in mind. Remember that sock thickness affects shoe fit. If you typically ride in thin, microfiber socks, that's what you should wear when you go shoe shopping. Just keep in mind that the shoe may no longer fit perfectly if you switch to thicker socks in the colder months. Also, be aware that most shoes stretch a little bit over time, so if you're trying to decide between two sizes, go with the one that's slightly snugger to adjust for shoe stretch, especially if you have a narrow foot. Finally, don't be afraid to try on shoes designed for the opposite sex. If you're a woman who finds a men's shoe that fits your foot perfectly, go with it.
References
Writer Bio
Jessica Bell has been working in the health and fitness industry since 2002. She has served as a personal trainer and group fitness instructor. Bell holds an M.A. in communications and a B.A. in English.