The History of Nike Soccer Cleats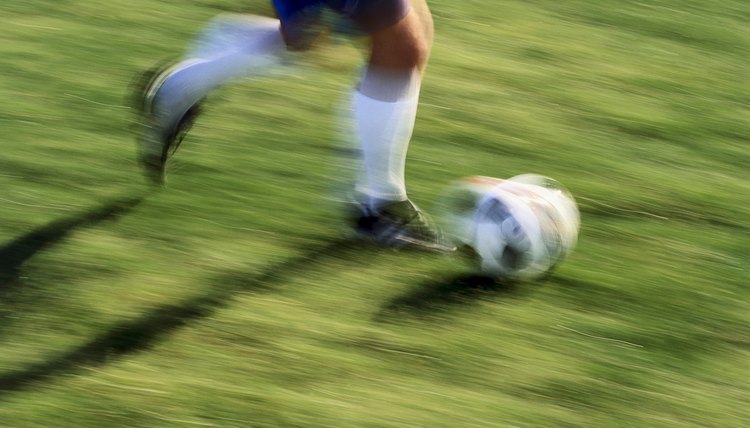 Originally known as Blue Ribbon Sports, the Nike company has been one of the industry leaders in the production and distribution of soccer cleats. From humble beginnings to a multi-billion dollar company, Nike's soccer shoes are steeped in a rich history helping to shape the game of soccer. With various styles available throughout the years, its no wonder Nike is well known worldwide, landing advertising in major arenas such as the World Cup soccer championships.
Early Years
Soccer cleats can be traced back to the mid to late 1500s when it is said that a pair of leather soccer boots were ordered by one of the wives of Henry VIII for recreational play. These boots were merely the beginning of soccer cleat evolution as we know it. Early cleats were not equipped with the knobby soles you find on today's playing fields, according to Shoeset.com. Over the years, several shoe companies opened their doors to meet the growing demand of soccer cleats to the general public, including Blue Ribbon Sports, or Nike.
Manufacturing
The company now known as Nike was formed in 1962 as a major distributor for Japanese-made running shoes, starting its import practice in 1963. The next decade ushered in a retail shop and name change from Blue Ribbon Sports to NIke, Inc. in 1978, according to FundingUniverse.com. The most notable progress occurred in 1971 with the design of Nike's first soccer shoe. Made by owner Phil Knight and partner William Bowerman, these soccer shoes brought Nike into a whole new arena, from shoe distributor to shoe manufacturer. Soon, the trademark "swoosh" symbol was adorning every shoe made by Nike. Nike manufactured these early soccer shoes overseas, and imported them to the United States through independent contractors.
Makes
Nike's first line of soccer shoes and boots were dubbed the Mercurial line, a name that has stuck with the company's soccer line for decades. Boots were the earliest form of soccer cleat, and were actually manufactured well before soccer shoes. In the 1970 World Cup, Shoeset.com states that Nike's first Mercurial boots were worn by soccer great, Pelé. Since two main lines of soccer shoes have become increasingly popular for soccer athletes. The Mercurial line is still going strong, as is the newer Total line of Nike soccer shoes.
Domestication
Nike opened its first United States plant in New Hampshire in 1974. The company's logo soon cropped up all over the country in minor and major sports arenas as well as the Olympic games. The 1976 Olympic trials were the main turning point in Nike's success when many of the athletes were noted to be donning Nike soccer and running shoes, according to FundingUniverse.com. This prompted Nike to set up shop all over the north coast into Maine, eventually increasing overseas production as well.
References
Writer Bio
Sharin Griffin has been a freelance writer since 2009, specializing in health-related articles. She has worked in the health-care industry as a certified nursing assistant and medical technician. Griffin's medical expertise encompasses bariatrics and geriatric care, with an emphasis on general medicine. She is completing an associate degree in health-care administration from Axia University.