Interesting Facts About Italian Soccer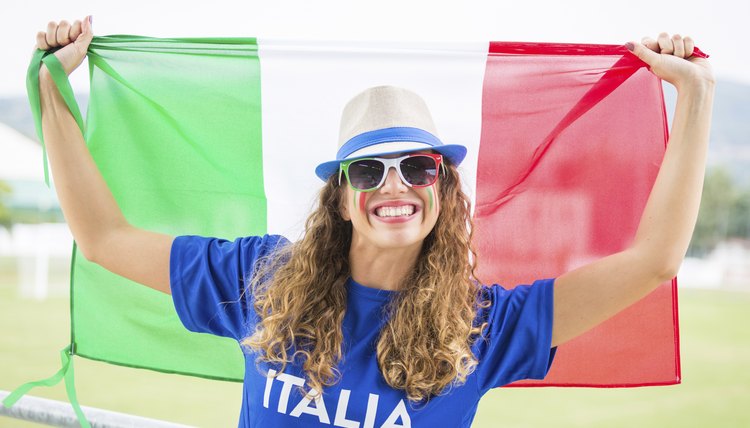 Soccer, or football as most of the world knows it, is a national passion in many countries, especially Italy. Italian soccer fans have good reason to be passionate: Their country's national team has won the World Cup championship four times and is consistently ranked among the best in the world. In addition, Italian league teams attract some of the top soccer talent in the world.
History
Italy's national soccer association, known as the Federazione Italiana Giuoco Calcio, or FIGC, formed in 1898 and is a part of the Union of European Football Associations, or UEFA. According to the website Worldfootball.net, the Italian national team's nickname is the "Squadra Azzurra" or "Blue Squad," a reference to the team's blue and white uniforms.
World Cup Success
The International Federation of Association Football, the governing body of world soccer, held the first World Cup tournament in 1930. Since then, the FIFA World Cup has become one of the most popular sporting events in the world. Italy has won the World Cup four times, more than any nation except five-time winner Brazil. Italy won back-to-back World Cup titles in 1934 and 1938. Italy won its third World Cup at the 1982 tournament in Spain and its fourth in Germany in 2006.
League Winners
Serie A is Italy's top professional soccer league, consisting of 20 of the country's top-ranked teams. Juventus of Turin has won the league title a record 27 times since the league's inception in the 1890s, World Football reports. International of Milan, better known as Inter, has won the Serie A title 18 times, including five consecutive times from 2006 to 2010. Another Milan club, AC Milan, has won the title 17 times.
Italian Cup
The Italian Cup is Italy's top national tournament, pitting soccer clubs from across the country. The first Italian Cup took place in 1922, with AC Vado winning. The tournament did not occur again until 1936, when Torino FC won. Two clubs, Juventus and AS Roma, hold the record for the most Italian Cup wins, with nine victories each, according to World Football. Inter and ACF Fiorentina have won the tournament six times each.
Champions League
In addition to their national competitions and the World Cup, Italian soccer teams also have made their mark on the UEFA Champions League, which pits Europe's top soccer clubs against each other. Since 1956, when the Champions League began, Italian teams have won the league 12 times, tying with Spain. Italian teams that regularly compete in the Champions League include Inter, Juventus and AC Milan.
Scandals
Italian teams have enjoyed massive success on soccer pitches around the world, but corruption scandals have erupted over the sport, even costing a team its national title. The British Broadcasting Corporation reported that a match-fixing scandal in 1980 resulted in two Serie A teams, Lazio and AC Milan, being demoted to Serie B, a lower league. In 2005, an investigation revealed that some referees had been pressured to fix matches by favoring certain clubs. As a result, Juventus was stripped of its league title. In addition, a team doctor was found guilty of giving performance-enhancing drugs to Juventus players during the 1990s.
References
Resources
Writer Bio
Shane Hall is a writer and research analyst with more than 20 years of experience. His work has appeared in "Brookings Papers on Education Policy," "Population and Development" and various Texas newspapers. Hall has a Doctor of Philosophy in political economy and is a former college instructor of economics and political science.