What does fact checked mean?
At SportsRec, we strive to deliver objective content that is accurate and up-to-date. Our team periodically reviews articles in order to ensure content quality. The sources cited below consist of evidence from peer-reviewed journals, prominent medical organizations, academic associations, and government data.
The information contained on this site is for informational purposes only, and should not be used as a substitute for the advice of a professional health care provider. Please check with the appropriate physician regarding health questions and concerns. Although we strive to deliver accurate and up-to-date information, no guarantee to that effect is made.
Step Aerobics Instructor Training
If you like helping people achieve their fitness goals and want to exercise for a living, consider becoming a step aerobics instructor. Although many step instructors teach other forms of group exercise, in addition to step, you can specialize in this energetic form of fitness. However, most gyms and fitness centers require you to go through the proper amount of training before you can teach.
Group Exercise Certification
To start, enroll in a group exercise teacher training course through a reputable organization, such as the American Council on Exercise. These courses teach the basics of group exercise training such as teaching and performing exercise, how to keep the class motivated and how to use eye contact to engage members of the class.
After you finish the basic group exercise training course, enroll in a specialized step aerobics instructor training class to refine your group exercise instructor skills so that you can successfully lead a step aerobics session. These classes will teach you basic and advanced step aerobics moves, and how to teach these moves to students in your step aerobics class.
Read more: Fitness Instructor Class Ideas
Practice at Home
Practice the step aerobics moves you have learned from the specialized course so that you can successfully demonstrate the moves to the class and help them perform those moves. You should practice at least 30 minutes a day for a couple weeks, so that you can perform the movements from memory.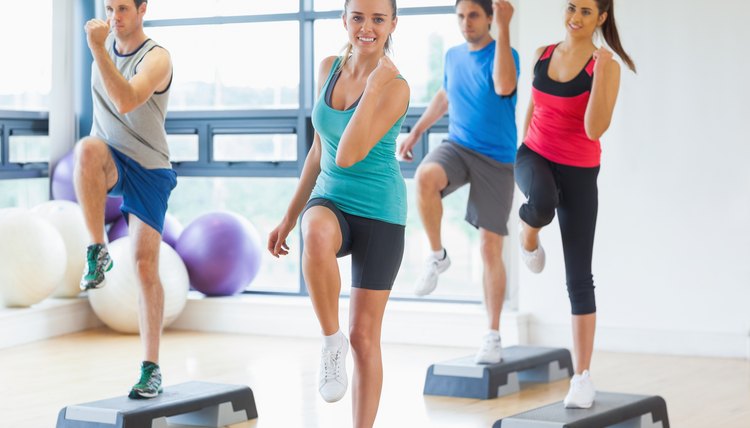 Step Aerobics Instructor Training
Group Practice
After you have perfected step aerobics movements, teach a one-on-one session to a friend or family member to help build your confidence in teaching step aerobics. Make sure that you perform some of the maneuvers with the person you are teaching, and try to try to motivate them as much as possible throughout the session. Remember to correct the form of the movements performed by that person if they are not performing the moves correctly.
You should then add more friends or family members and conduct larger lessons to improve your ability to monitor and instruct several people at once. You can then start training actual step aerobics sessions when you feel confident in your ability to monitor and motivate a group of exercisers.
Continuing Education
Enroll in a continuing education class to learn the latest trends in step aerobics. These classes will help you learn more maneuvers to teach your classes so that they don't become repetitive or boring. You may also need to enroll in the continuing education courses so that you can renew any step aerobics certifications you have completed on your journey to becoming a step aerobics instructor.
Read more: The Best Step Workout Videos
References
Writer Bio
Joshua Bailey has been writing articles since 2006 with work appearing at Bodybuilding.com and 2athletes.com. Bailey holds the following certifications: NASM-CPT, NASM-PES, NASM-CES and NSCA-CSCS. He also holds a Bachelor of Science in exercise and sports science from the University of North Carolina, Chapel Hill and a Master of Science in exercise physiology from the University of North Carolina, Greensboro.