Horse Racing Schools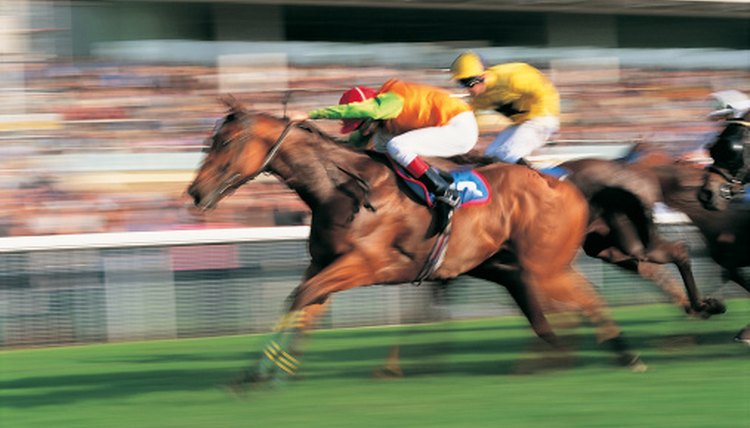 Formal training schools for careers in the horse racing industry are few and far between. Much of your knowledge will come from direct experience--whether your dream is to become a jockey, work with horses or handle the business side of horse racing. There are a few programs in the United States that cater to each of these equine career options, two of which are located in Kentucky, home of the famous Kentucky Derby.
North American Racing Academy
Located in Lexington, Kentucky, the North American Racing Academy's mission is to prepare students for being both successful race riders and horse caretakers. Chris McCarron, a Hall of Fame jockey, established the school. The program curriculum is four semesters in length and includes courses in equine physiology, racehorse riding principles, stable operations, riding techniques and general equine studies. Another required course focuses on preparing students for the interpersonal, health and financial considerations of being a jockey.
Frank Garza Jockey School
The Frank Garza Jockey School in Somis, Calif., is also run by a horse racing industry vet. Frank Garza, Jr. spent decades participating in races in addition to working in farm management, breeding and training. The school offers the jockey and exercise rider program for both intermediate- and advanced-level students. Training focuses on all aspects of racehorse riding including how to handle difficult horses and work with trainers. Students can also enroll in the horse training program to learn breaking and training techniques or the grooming program, which focuses on horse management and care.
University of Arizona
If you're interested in horse racing but don't want to be a jockey, consider the University of Arizona's Race Track Industry Program. The equine management path trains students to work in racing and breeding facilities; the business path is focused on preparing students for management positions in the industry. Students complete the requirements for a bachelor of science in agriculture in addition to the RTIP training. Internships, available within the country and abroad, are an integral part of the program. They provide the opportunity to gain experience working at farms, with trainers and in horse racing organizations.
Racing Officials Accreditation Program
If you already have experience in the horse racing industry and want to boost your credentials, you may be interested in attending the Racing Officials Accreditation Program's Basic School in Kentucky. This program is designed for experienced racing officials, jockeys, trainers and drivers. The Basic School offers a 60-hour curriculum. Covered subjects include horse identification, racing regulations, judging duties and medication regulation. Interaction with management and jockeys is also covered. Continuing education is required to maintain accreditation.
Writer Bio
Previously working for the North Carolina Community College System, Rachel Morgan has been a freelance writer and editor for over six years. She has a bachelor's degree in public health as well as a master's degree in English.