How to ID Chinese Dirt Bikes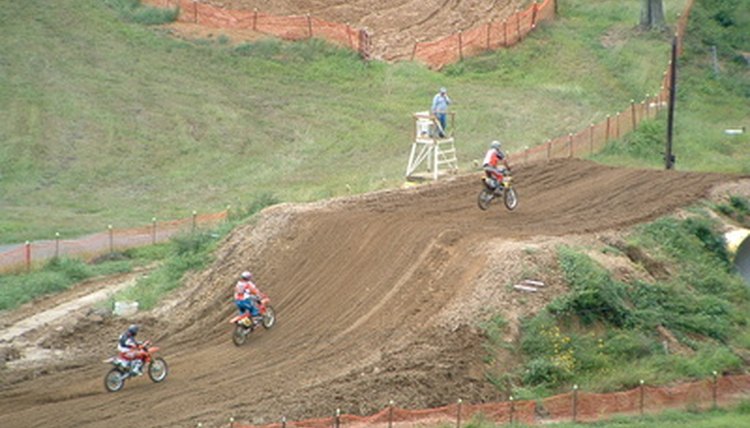 Chinese ATVs and dirt bikes are typically considered models that are manufactured in China or constructed using Chinese parts. Chinese dirt bikes may be built by factories that also produce parts for major manufacturers, but they can also be built by independent, non-associated factories. It can be extremely difficult to identify a Chinese dirt bike's manufacturer or make and model; however, you will need to do so in the event that the dirt bike ever breaks down and you need to purchase parts for it.
Examine the dirt bike closely. If there are no recognizable make or manufacturer emblems on the body, chances are the vehicle was manufactured in China. If the emblems cannot be identified or are not recognizable, the dirt bike is probably Chinese.
Locate and examine any paperwork you received when you initially purchased the four-wheeler. Paperwork should provide information about the vehicle's manufacturer, make and model number. If the dirt bike came from a dealership, contact the dealership and provide them with information about your purchase and vehicle.
Locate the dirt bike's vehicle identification number. Chinese-manufactured vehicles sold in the United States should still have been issued a unique vehicle identification number. The VIN will be located stamped on the vehicle's metal frame, in most cases. Run the VIN number through a VIN number decoding program.
Check the individual parts numbers of various components against known part numbers. For example, if the engine block has a casting number that can be traced back to Honda or another major manufacturer, you will have a good place to start identifying the dirt bike. Most dirt bike dealerships or part house customer service departments should be able to help you identify the various components and their manufacturer.
Warnings
Some Chinese dirt bikes may be impossible to identify, or may be made up of a variety of other parts from various manufacturers and suppliers.
Writer Bio
Jen Davis has been writing since 2004. She has served as a newspaper reporter and her freelance articles have appeared in magazines such as "Horses Incorporated," "The Paisley Pony" and "Alabama Living." Davis earned her Bachelor of Arts in communication with a concentration in journalism from Berry College in Rome, Ga.