YMCA National Fitness Certification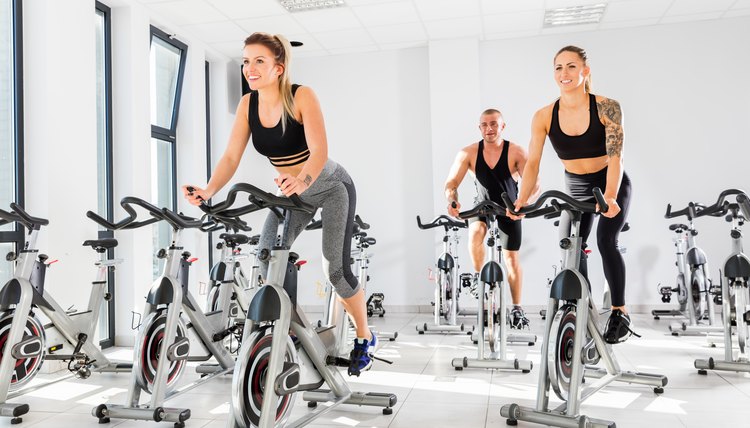 With branches across the United States,the YMCA — also referred to as the Y — has several nationally recognized fitness certification programs. The Y provides many community resources as part of its focus and commitment to helping people in communities around the globe.
Fitness and healthy living have been a part of the Y's community service since 1869, when the first gyms were built in YMCA buildings. Some YMCA fitness certifications include a series of training seminars, while others are stand-alone courses designed for a specific type of exercise program.
YMCA Healthy Lifestyle Principles
The YMCA Healthy Lifestyle Principles certification is a prerequisite for all other Y-based USA Health and Fitness certification programs. The course provides theoretical and practical information for instructors in all YMCA health and fitness programs.
Course information includes basic physical fitness and healthy lifestyle principles, effective leadership tools and fitness program safety guidelines. It also covers the Y's mission philosophy and the national program training and certification system.
Foundations of YMCA Group Exercise
The Foundations of YMCA Group Exercise course covers practical application of cardiorespiratory and neuromuscular exercise information, training in the basics of group exercise instruction, leadership skills, teaching skills and motivation techniques.
The training is comprehensive and similar to those obtained from other nationally-recognized organizations, including the American Council on Exercise and the Aerobics and Fitness Association of America.
The YMCA Cardio and Step Aerobics Instructor course includes training in conducting traditional group exercise step aerobics, high/low, choreography and pattern development.
Leadership and instructor training focuses on structuring group aerobics classes and practical sessions. After successfully completing this training, you can teach step and cardio classes at the Y.
YMCA Group Cycling Instructor Certification
The YMCA Group Cycling Instructor Certification course provides training in how to develop indoor group cycling classes. The focus is on developing the skills to create a variety of cycle exercise programs.
Other Options for Teaching
The YMCA accepts other certifications, including Les Mills and the American Council on Exercise, as sufficient eligibility to teach classes at their facilities. Always check with your local branch, as certain local trainings and certifications may also be required in addition to fitness certifications for you to be eligible for employment.
References
Writer Bio
Caroline Thompson is a professional photojournalist who has been working for print and online publications since 1999. Her work has appeared in the "Sacramento Bee," "People Magazine," "Newsweek" and other publications. She holds a Bachelor of Arts in photojournalism from California State University at Hayward and a personal trainer certification from the university's Health and Fitness Institute.