Can a Soccer Ball Be Kicked Better With a Certain Type of Shoes?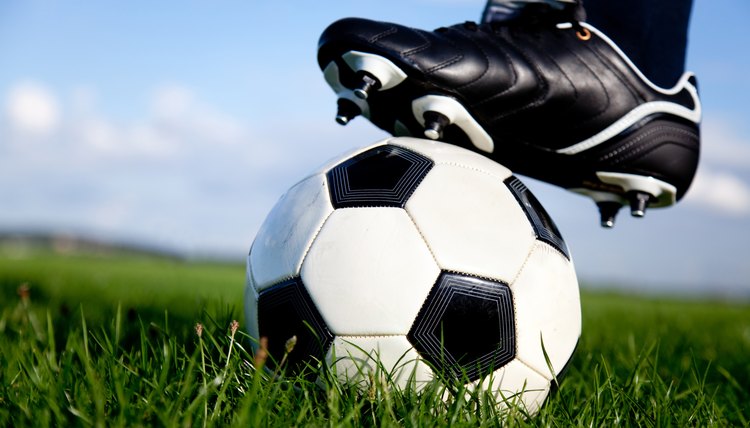 Top soccer stars endorse high-end shoes. Players such as Landon Donovan of the LA Galaxy, Lionel Messi of Barcelona and others are walking advertisements every time they play and display models marketed by Nike, Adidas, Diadora, Puma and other leading cleat makers. Your question as a recreational or amateur soccer player centers on whether shoe type makes a difference, particularly if your playing surface is not a perfectly manicured grass field such as the pros enjoy.
History
Modern soccer shoes trace their ancestry to the Dassler shoe introduced in 1954 by Adi Dassler, founder of Adidas. It featured cutaway ankles and soft leather for a 50 percent reduction in weight, writes Adrian Lees, an exercise sciences professor at Liverpool John Moores University, in a chapter on soccer equipment and biomechanics in "Science and Soccer." The shoes cost twice as much as the heavier boots of the time but allowed soccer players to attain track-meet speed as they sprinted, as well as achieve better feel of the ball for kicking. Most important to kicking was the Dassler's introduction of screw-in studs to match the stud length to the sloppiness of the playing field, important especially in rainy Northern Europe. These allowed secure footing for the plant foot, critical to the success of goal kicks and free kicks especially.
Types
Shoe type "depends on how much support your foot needs," says Wes Harvey, former coach of the Morgan State University men's team and a player himself. "I like cleats because they have extra support at the bottom of your foot." If you play indoor soccer, you'll need a completely different shoe design given the artificial surfaces used. Indoor arena coverings involve a short nap like a carpet or longer strands of plastic grass. "Indoor shoes do not have the support of outdoor shoes," Harvey notes, "but the lighter indoor shoes allow your foot to move faster. Indoor requires a quicker first step. Outdoor has greater distances and thus requires more power and less foot speed."
Features
Lees agrees on the importance of the amount of grip the shoe provides on the surface as a component of your kicking quality. The type of sole -- outdoor cleats are molded thermoplastic polyurethanes and indoor shoes are gum rubber, for example -- and the stud configuration "can lead to a 250 percent change in the degree of traction offered," Lees writes. As part of the planting and kicking motion, players need a surface-appropriate shoe that is neither too slippery, so that they risk falling, nor too grippy, posing "a danger that players will suffer knee and ankle injuries as their feet become locked during turns and maneuvers," Lees writes.
Expert Insight
John Scott, who evaluates soccer shoes for Endeavor Sports, the parent company of mail-order company Eurosport, notes that high-end adult soccer shoes feature "ball-control elements that are there to help players improve their touch and ability to guide and spin the ball." These can include stitching, rubber elements on the sides of the uppers and padding or pillow-type elements, he notes. Not all players want ball-control design features, he added. "Some players feel that when you add those elements to the ball, you take away some touch," he states.
References
Writer Bio
An award-winning writer and editor, Rogue Parrish has worked at the Washington Post, the Baltimore Sun and at newspapers from England to Alaska. This world adventurer and travel book author, who graduates summa cum laude in journalism from the University of Maryland, specializes in travel and food -- as well as sports and fitness. She's also a property manager and writes on DIY projects.