What Type of Soccer Shoe Should Be Worn on Turf?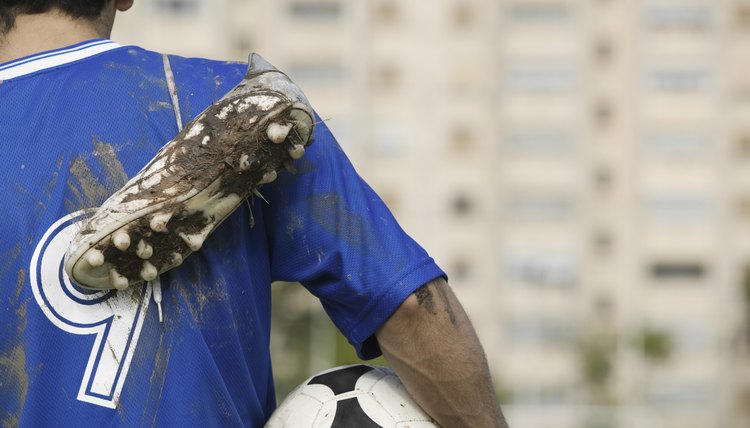 Soccer shoes come in specific forms; molded cleats, interchangeable cleats, turf shoes and indoor shoes. Each form is designed to help your game specific to the surface upon which you play. Molded cleats and interchangeable cleats are best for natural grass surfaces where you need shoes to bite into the ground for traction. Indoor shoes are best for gym floors, sport courts, asphalt and concrete. This leaves turf shoes, which are designed specifically for turf-covered fields.
Playing on Turf
Turf, or Astroturf, is an artificial grass material used for sport fields in soccer, football and baseball. Turf consists of two parts, the artificial grass blades and the mat to which they are attached. The artificial grass blades are tougher than normal grass and the turf mat is impermeable. Normal cleats will not work for turf, because cleats are designed to penetrate the ground surface for traction. Normal soccer cleats will provide poor traction and comfort. They are also prohibited on most turf fields because they wear down the surface more quickly.
Why Wear Turf Shoes
Turf soccer shoes have hard outsoles that feature aggressive and dense raised treads of various designs. These raised treads are more shallow than the studs or blades on normal soccer cleats. Turf shoes are not meant to permeate the mat surface, but rather to hold on to the dense turf grass. As a result, turf shoes offer effective traction and comfort on turf surfaces because they interact with the turf uniformly.
Buying Considerations
When choosing turf shoes, consider fit above all other features. A turf shoe for soccer needs to fit snugly in both the heel and toe to improve touch on the ball and prevent your foot from sliding around inside, which can cause blisters and sore feet. Avoid turf shoes that may be too narrow and pinch your feet. Look for leather versions that stretch and conform to your foot over time for a more comfortable, custom fit. When you try on soccer turf shoes, wear your normal soccer socks and shin guards, especially if they are equipped with an ankle guard that affects your shoe fit.
Other Uses
Turf shoes are also used for hard natural surfaces, including dirt, sand and short-grass fields. They are efficient training shoes for running on both artificial and natural surfaces: You can even use them as a backup for your normal cleats. Having a pair of cleats and turf shoes expands your choices in footwear, ensuring you get the best traction and comfort in all field conditions.
References
Writer Bio
Patrick Hutchison has been doing freelance work since 2008. He has worked as a physical therapy aide and as a writer for various websites including Destination Guides and several travel-related companies. Hutchison has a Bachelor of Arts in history and anthropology from the University of Washington.