How to Make Your Own Soccer Cleats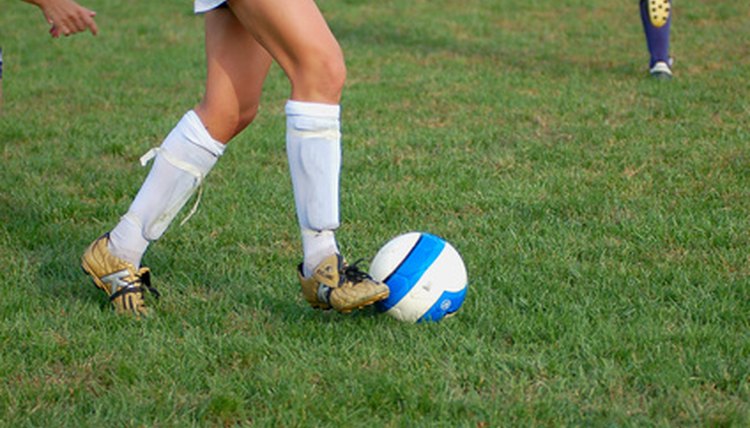 Soccer is one of the most popular sports in the United States, particularly among children. Anyone with an Internet connection can build his own soccer shoe with cleats, customizing the design and color relatively easily. Most brands that sell soccer cleats, well-known or not, offer a way for you to personalize your shoe online.
Know your size. Before you begin to build your soccer cleats, it's a good idea to leave the guesswork out of the process and figure out the size of your feet. The best way to do that is to visit your local shoe store, or better yet, a sporting goods store that sells soccer cleats. Have a store associate measure both of your feet. After that, try on the brands of the shoe you plan to customize to get the best fit.
Know your options. A number of companies allow you to build your cleats online. Nike has become quite popular in this area with its NikeiD brand. Adidas has a line of customizable soccer cleats on its Mi Adidas site. See the Reference section for links.
Choose your style. Once you've decided on a brand, choose the style of soccer cleats you want to customize. The process is similar for most shoes. For instance, if you decide on Nike, you can pick from more than 10 styles of soccer shoes, both indoor and outdoor varieties.
Pick your bases. All of the customizable shoe companies contain a first step that allows you to color the base of your soccer cleats. Most shoes have an inside and outside base, giving you the option of using two primary colors, or just one if you pick the same color for both bases. Colors for most companies range from shades of blue, red, yellow and green, to black and white.
Pick your laces. Laces can add style to your soccer cleats, and all of the major customizable sites come with a wide array of colors. Using the Nike Mercurial Talaria as an example, you can choose from traditional colors such as dark red or light blue, or newer ones such as grape or fluorescent green.
Color your tongue. Customizable soccer shoe companies allow you to pick a separate color for the tongue of the shoe. Some, such as NikeiD and Mi Adidas, even give you the option of coloring the eyelets on the tongue through which the laces thread.
Place your order. Now that your cleats are customized, all you need to do is choose a size and buy them. Once that process is complete, you can expect to receive your self-created soccer cleats in three to five weeks.
References
Writer Bio
Sam Amico is a reporter for NBA.com and worked as a writer and editor at daily newspapers for more than a decade, covering everything from rock concerts to college football to courts and crime. He attended Kent State University and is the author of the book, "A Basketball Summer." He also is the co-host of a nationally-syndicated television show, "The Wine & Gold Zone."