What Are the Lightest Basketball Shoes Ever Made?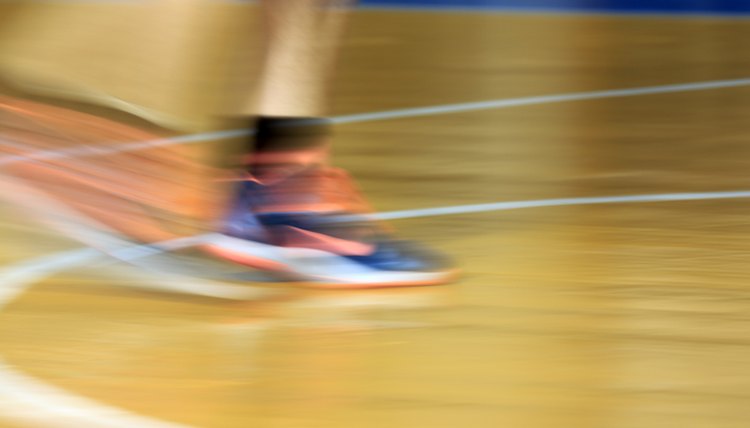 As you read this, there is a good chance somebody is busy designing the lightest basketball shoe ever. With each new year, new technologies and materials make that possible. As of 2014, the title of the lightest shoe went to an Adidas product, though a Nike product was not far behind.
Heavy to Light
Traditional leather-upper sneakers weighed around 20 ounces. That started to change around 2008, and by 2014 some shoes weighed under 10 ounces. They boasted nylon and plastic components, engineered and breathable mesh upper materials and lightweight soles and heel components. Each advancement helped build a lighter shoe.
Adidas AdiZero Crazy Light Series
As of April 2014, all three versions of the Crazy Light claimed to be the lightest basketball shoe at the time of its release. The original version launched in 2011 weighed in at 9.8 ounces and had good traction and comfort but poor ankle support according to Counterkicks and user reviews. The Crazy Light 2 from 2012 weighed 9.5 ounces, but was criticized by Counterkicks for a thin tongue that slid around during play. The Crazy Light 3, launched in July 2013, weighed 9 ounces. DimeMag wrote that its "3D molded tongue enhances comfort for the foot."
Zoom Kobe
There have been nine versions of the Zoom Kobe as at April 2014. The shoes, named for Los Angeles Lakers star Kobe Bryant, got progressively lighter with the Nike Zoom Kobe IV at 11.6 ounces, the Kobe V at 10.6, and the Kobe VIII at 9.6. The Nike Zoom Kobe IX was released in March 2014 but weight information was not available as of publication time.
Lighter Doesn't Mean Better
While players like Bryant made light shoes desirable, other players have done fine with the heavy old models. Regardless of weight, the shoes have to provide ankle support, stability, traction, cushioning and comfort. Inner linings, ankle padding and a thick tongue are vital too according to the Basketball Shoe Buying Guide.