Benefit of Battery Power Vs. an AC Adaptor for Home Exercise Equipment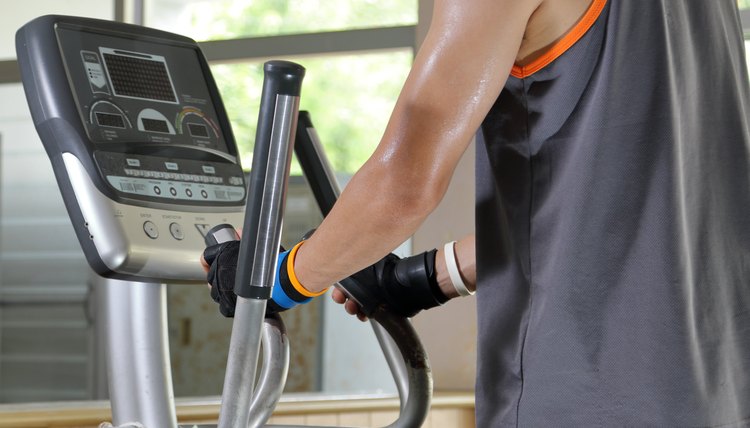 Home exercise equipment, such as treadmills, elliptical machines and exercise bikes, are typically powered by either a battery or by a power cord plugged into an electrical outlet. Some machines can be powered by either source, but others only have one power option. Each type of power source has benefits and drawbacks.
Home Machines
Motorized treadmills use a power cord, but manual treadmills do not require an outlet. They use a battery to power the console, but you power the running belt. Exercise bikes and elliptical machines can be powered by a battery or by an AC adapter. Some models offer you a choice, while other models have only one power option. Some exercise bikes use alkaline batteries to run the console, while others require a model-specific battery pack in place of the AC adapter.
Battery Benefits
You can place a battery-powered machine in any room with enough floor space. You don't have to worry about having an available outlet or how to run the power cord without it being a trip hazard. Most of your outlets may already be used, making it difficult to find a free outlet for your gym equipment. Some equipment, such as motorized treadmills, require a dedicated outlet, meaning you can't plug other appliances into the same circuit. This takes up even more outlets.
Replacements Needed
Batteries run out of power. You have to either replace or recharge the batteries. This costs time, money or both and it may erase any information you had stored in your machine's computer memory. Depending on the make, model and age of your machine, you will likely have to order the battery. If your old one dies and you have to wait for the new one to arrive, you could be stuck without the use of your machine for a while.
AC Powered Machines
Machines with an AC adapter are typically more powerful and have more advanced features than battery-powered home exercise equipment. Elliptical trainers that have a power incline ramp require an AC adapter. Those without the ramp are more likely to be battery powered. Motorized treadmills, which are powered with an AC adapter, have more console features, such as preset programs and digital power ramps, than manual treadmills, which are battery-powered.
Shortcomings With AC Power
You won't be able to use your elliptical to beat boredom when you're stuck at home during a power outage. Power surges can affect the computerized features and electric circuitry of your elliptical machine if you haven't take precautions to plug it into a surge protector. When an AC adapter needs to be replaced due to wear and tear or a malfunction, finding a replacement could be difficult if your make and model is no longer made.
References
Writer Bio
Based in Austin, Texas, Jolie Johnson has been in the fitness industry for over 12 years and has been writing fitness-related articles since 2008 for various websites. She received her Bachelor of Arts in English and philosophy from the University of Illinois.