Bike Specs for Limited Edition Jetta Trek Mountain Bike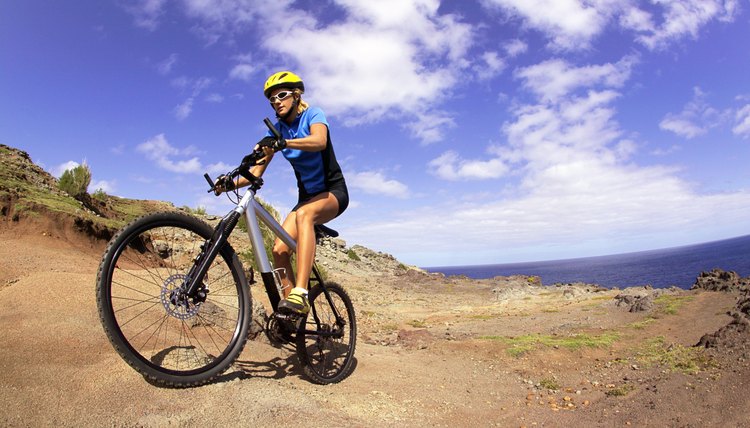 In the late 1990s the Volkswagen car company partnered with the Trek bicycle company to offer a car-bicycle combo. The Limited Edition Jetta Trek, complete with a mountain bike, was only offered for a few years, but the bikes and the cars are still out there. If you're thinking of buying a Jetta Trek mountain bike, you can expect it to be a bike with middle-of-the-road quality.
Frame Differences
The Jetta edition Trek mountain bike looks much like the frame you'll find on a late '90s 850 model Trek bike. The Trek frames were an aluminum alloy frame, with a fork made from double-welded chromoly. That type of fork made it slightly lighter. The bike doesn't come with rear or front suspension, so the forks are also made from chromoly steel. The frames came in five sizes.
Brakes
The Jetta Trek's brakes were made by the Shimano company. They're the Altus-style brakes in the cantilever style, meaning the two sides of the brake are attached to their own pivot point. This is a common style of brake for thick tires, as mountain bikes typically have.
Shifting and Drivetrain
The bike's shifters were SRAM grip shift ESP 500 models and are the roll type, meaning you'd be able to roll the shifter on the handlebars either forward or backward with a flip of the wrist. The bike has 21 gears. Trek's 800 series models had Shimano-brand sealed mechanism rear hubsets and aluminum-sealed front hubsets.
Other Features
Since the bike hasn't been made in a long time, the tires may have long been replaced on any bikes you find for sale. The originals, however, were Big Kahuna brand tires that were 26 inches wide and 2.1 inches thick. The bikes were purple in color and had a VW logo on the hand grips as well as on the seat.
References
Writer Bio
Nicole Vulcan has been a journalist since 1997, covering parenting and fitness for The Oregonian, careers for CareerAddict, and travel, gardening and fitness for Black Hills Woman and other publications. Vulcan holds a Bachelor of Arts in English and journalism from the University of Minnesota. She's also a lifelong athlete and is pursuing certification as a personal trainer.