Which Shoes Are Best for Kicking a Football?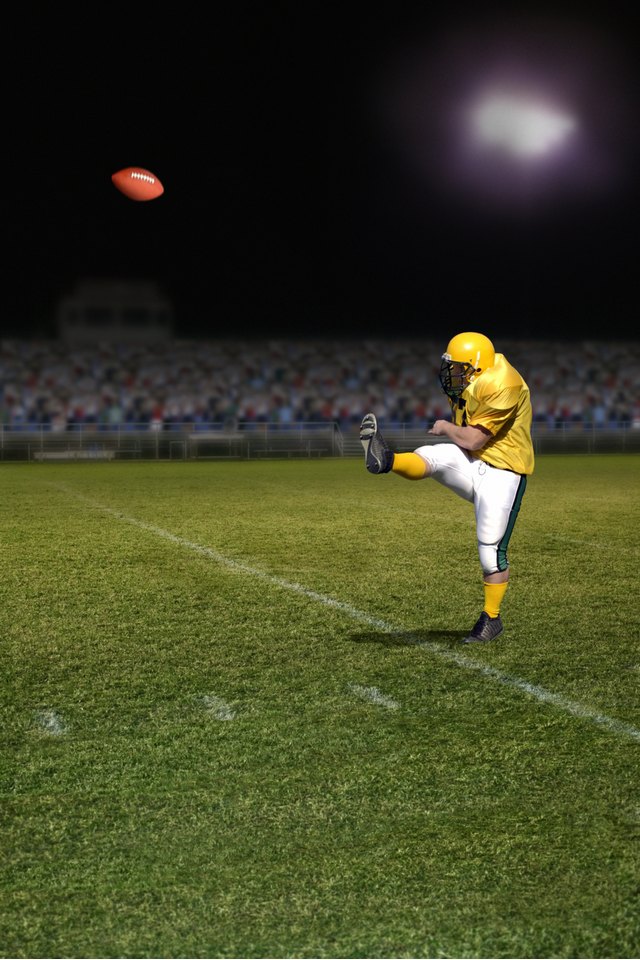 Giants' players may find Lawrence Tynes, one of the NFL's best kickers, in the equipment room wearing goofy goggles and holding a power tool. That's because Tynes shaves the studs on his kicking shoes in the same way that a violinist tunes her instrument. When Tynes prepares his shoes for kicking a football, he relies on instinct and the feel of the shoe. While a certain kangaroo-leather style shoe may be the recommended as the best kicking shoe, rely on the shoe that feels right for you.
Form-Fitting Leather Is Key
To deliver a good kick or punt, the most important factor is control. The goal is to consistently make contact with the ball over as much surface area as possible. A cleat built for speed is not as effective as a soft-leather shoe that forms to your foot. The best kicking shoe is a soccer shoe made out of a high-quality leather -- kangaroo leather -- and is anywhere from one to two sizes smaller than your normal shoe size. If it's too tight, it can hinder movement, but there should be little to no room between your toes and the shoe. The contact area of the shoe should only have laces and leather with no additional straps, covers or folded-over tongues.
Ankle Support for Plant Foot
The foot that you land on before you deliver a kick is known as the plant foot. Some kickers wear a different kind of shoe on their plant foot for more stability. Soccer cleats or kicking shoes tend to have smaller spikes and offer less traction on the field as plant shoes. Therefore, some kickers wear a screw-in football cleat on their plant foot, which also provides better support for your ankle. There's no hard and fast rule about wearing a different shoe for your plant foot. It boils down to your preference.
Breaking In Shoes
Breaking in and optimizing your kicking shoe for performance can become a ritual. In general, removing the tongue and tucking in your laces on the outside corners can give you a more level striking surface. If you kick off the ground, studs that are too long can catch the ground at the bottom of your foot swing. While you don't have to resort to power tool like Tynes to shave down the studs on your kicking shoe, you can use a filer. You can shave the studs down to about 50 percent of their length, according to The Kicking Coach. But the amount of shaving ultimately depends on what works for you. Use a shoe stretcher or insert bunched-up newspapers into a new kicking shoe to stretch the leather.
Kicking in Wet Weather
If you're kicking in rain or snow, you may want to have different types of shoes on hand depending on the surface. Natural grass loosens in wet weather and can cause poor footing. Kickers tend to use shoes with detachable cleats in which you can change the cleat length to suit ground conditions, according to "Football Kicking and Punting" by Ray Guy and Rick Sang. If you're kicking on artificial turf in the rain, you may want to use turf shoes, which have small rubber nubs and look like sneakers. These shoes have better traction on firm level ground. When kicking in snow, your choice of shoe will depend on the type of snow. If the snow is powdery and loose, you may opt for shoes with the longest cleat possible. For frozen snow, football turf shoes can provide the traction you need for an icy surface.
References
Writer Bio
Kay Tang is a journalist who has been writing since 1990. She previously covered developments in theater for the "Dramatists Guild Quarterly." Tang graduated with a Bachelor of Arts in economics and political science from Yale University and completed a Master of Professional Studies in interactive telecommunications at New York University.