Different Formations for Cheerleading Competition Routines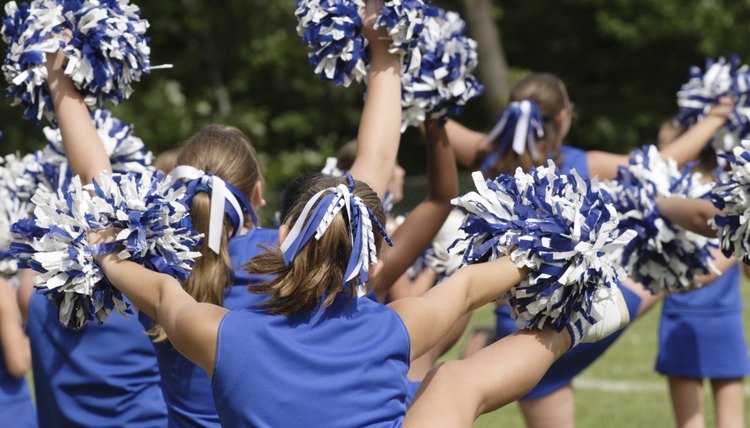 Formations are the shapes made when cheerleaders stand in specified spots during cheers or routines. In cheerleading competitions, formations are very important to the effectiveness of your routine. Even without a high degree of difficulty in tumbling, stunting and jumping, your squad can stand out at a cheerleading competition because of its formations. Properly planned and well-executed formations can help create variety and enhance the visual effect of your competition routine.
Formation Diagrams
Diagram all of the formations you will use in your competition routine. Using paper and a pencil, map out each formation. In the initial stages of planning, create formations by simply using an X to mark the spots where cheerleaders will stand. Later on in your planning, you will replace each X with the initials of the cheerleader who will stand in that spot within the formation. Write all diagrams in pencil because formations and the cheerleaders that will hold the places within them will change many times throughout your competition season.
Basic Formations
Build your routine upon a foundation of basic formations that will be easy to execute. Include a triangle or upside-down triangle formation with one cheerleader at the point and two behind her, growing each row by one more cheerleader. Also consider a staggered straight line formation with lines of cheerleaders placed so that each cheerleader is windowed between the two cheerleaders in front of her. Finally, a formation in the shape of an X or a V is also easy to execute. Easier formations will be the backbone that holds your routine together. Drill these basic formations to absolute perfection; as just one girl taking a step out of place will be very obvious to the judges.
Variety
Create a strong visual effect through a variety of formations. Variety is vital to the success of your competition routine formations. Plan not to stay in one formation for more than two eight-counts of music. For every basic formation you have planned, consider what unique formation it could easily morph into. For example, a triangle formation can easily transition into a diamond shape, or an X formation can easily transition into a square. Subtle formation changes appear more orderly, so do not make them too drastic. Consider using a traveling formation where the entire squad moves, staying in formation, from one section of the mat to another.
Work the Mat
It is very important to the competition judges that your routine uses the entire surface of the mat. Do not keep your formations all in the center or at the front. Also incorporate widespread formations that use the entire mat at once. Consider offset formations such as a sideways triangle formation with its point in one back corner of the mat. Don't be afraid to divide your squad into two or three parts with equal formations in different sections of the mat.
References
Writer Bio
Based in Wisconsin farm country, Jami Kastner has been writing professionally since 2009 and has had many articles published online. Kastner uses her experience as a former teacher, coach and fitness instructor as a starting point for her writing. She has a Bachelor of Arts degree in secondary education from Trinity International University.