Exercise Equipment for Truck Drivers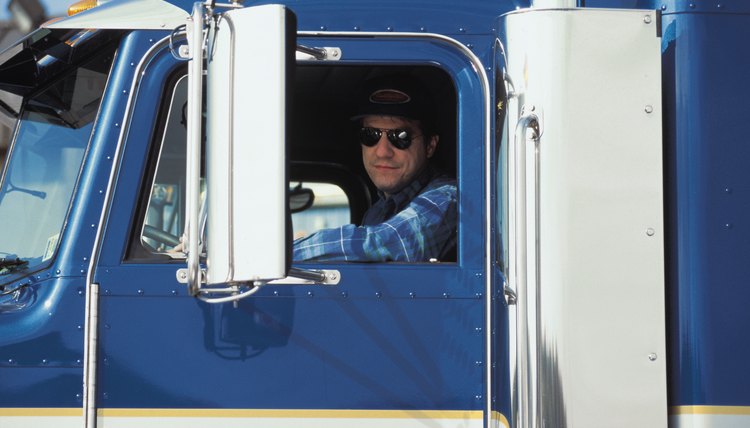 Being a professional truck driver can have its perks, but over time, long hours spent seated can take a toll on your health. Taking time to exercise each day can counter some of the aches and pains associated with long hours of sitting and can also decrease your risks for heart problems and metabolic disease. Your cab space may be limited, but luckily you don't need a lot of equipment to get a total body workout.
Here's the Problem
Too much sitting is not good for anyone, but when you combine long hours of sitting with stress, sleep deprivation, constant vibration and unhealthy nutrition, health problems ensue. According to a 2010 review of truckers' health published in the "AAOHN Journal," truck drivers are subject to high levels of cardiovascular disease, diabetes, obesity, musculoskeletal disorders, depression and other health issues. Because of this, the trucking profession is among those with the highest health risks in the United States.
Help for Your Heart
To offset negative health risks, the American College of Sports Medicine, or ACSM, recommends a minimum of 30 minutes of cardiovascular exercise daily. You can do a continuous session for an entire 30 minutes, or you may do shorter sessions, each lasting at least 10 minutes, throughout the day. Each time you stop to gas up or eat, jump rope for 10 minutes, or power walk or jog for 10 to 30 minutes. Make sure you wear supportive foot wear when doing these exercises.
Muscle Up
The IDEA Health and Fitness Association notes that the human body was designed to be upright on two feet. IDEA lists weak and dysfunctional muscles and poor posture as consequences of excessive sitting that in turn cause back and joint pain. Resistance training can improve your strength and promote healthy muscle tension at your joints to restore good posture. You have several options, including a pair of dumbbells, a medicine ball and resistance tubing, which are small enough to stash in a corner or under the seat. Select resistance equipment that is heavy enough to challenge you during most exercises. The ACSM recommends you perform resistance exercises at least two to three times per week for all your major muscle groups. Do one to three sets of eight to 12 repetitions, working your muscles to fatigue.
Strapped for Space
If you're really strapped for space, a TRX suspension training system can provide you with an easy-to-stow alternative to dumbbells. TRX is the brain child of former Navy SEAL Randy Hetrick, who developed it for SEAL training in the field. The system, which uses highly durable strapping with attached handles, can be anchored to the door of your rig or to any sturdy structure that is seven-to-nine feet off the ground and strong enough to support your body weight. Using your body weight, you can perform a series of challenging exercises for all your major muscle groups, for example, incline presses, single leg squats, lunges, flyes and tricep presses. When you finish your workout, you may compactly roll up the straps and fit them into a small bag.
References
Resources
Writer Bio
Michelle Matte is an accomplished fitness professional who holds certifications in personal training, pilates, yoga, group exercise and senior fitness. She has developed curricula for personal trainers and group exercise instructors for an international education provider. In her spare time, Matte writes fiction and blogs.