How to Run With a Waist Belt & the Benefits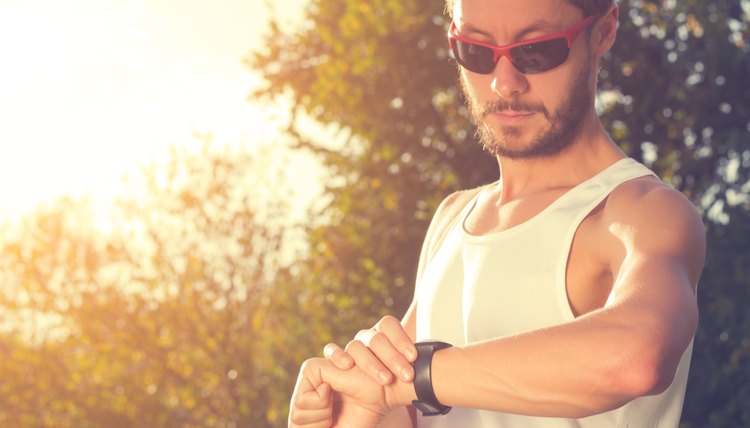 Similar to your running shoes, waist belts come in many different shapes and sizes and are designed for different purposes. Most runners who wear belts are looking for a convenient way to carry water and gel packs; and maybe a few extras like their phone, a GPS unit or energy bars. If you have yet to buy a belt, you may want to consider the myriad types and choose which belt meets your running needs and goals.
Tuck your shirt into your running shorts or pants. This allows better access to your belt and the necessities in it.
Wrap the belt around your true waist, or at the belly button line, and make any size adjustments necessary. Wearing the belt too low, such as around your hips, can interfere with your running stride and potentially slip off.
Secure the belt around your waist, nice and snug, and fasten the Velcro or clasp closure. A tight fit will prevent excessive bounce or jiggle in the belt while you run.
Insert the filled water bottles if you are using a hydration waist belt. These belts come with between one and six water bottles to keep you hydrated. For endurance sports the Colorado State University Extension encourages 1/2 cup of water every 10 to 15 minutes.
Weight the belt with small lead weights, available at sporting or fishing goods stores, to increase your calorie expenditure, or use the water in a hydration belt for weight. These weights can be placed in a zip pocket or sewn into the lining. The more you weigh, the more calories you burn during any activity, including running.
Tips
A small cellphone can be placed in a pocket on the waist belt. Carrying a cellphone enables you to call for help should you need it. Remove your house key from its ring and place it inside a pocket in the waist belt.
Warnings
Talk to your doctor before you wear any weighted running accessories if you suffer joint disorders or pain.
References
Writer Bio
As a bachelor's-prepared registered nurse with more than 15 years of diversified experience, Juliet Wilkinson innerves our health-conscious population through expert articles. She is a motivated professional who believes that preventive care is the first step towards health and well-being.