Types of Trails in Snowboarding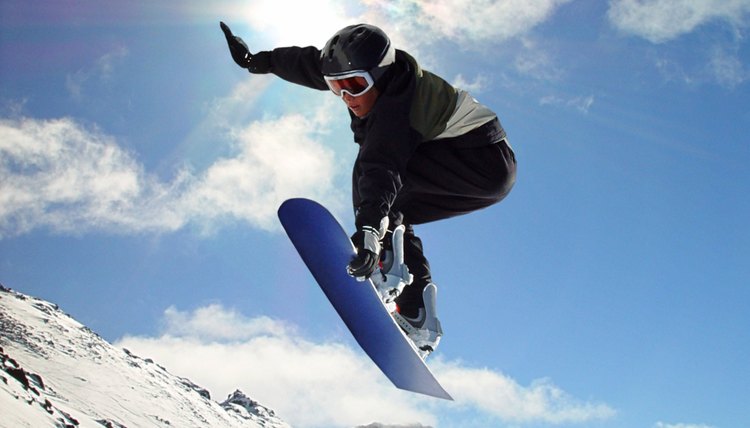 Snowboarders are most often known for hitting jumps, riding rails and launching out of the half-pipe, but riders can be found on all types of terrain on the mountain. Many do enjoy the terrain park and half-pipe, but others like to take backcountry runs through the woods, dodge moguls, carve down freshly groomed runs or enjoy a little bit of each.
Trail Designation
All North American ski and snowboard resorts use the same designation system to rate their trails. These rankings are always based on the difficulty of the terrain for the resort's particular area. The trails are marked as green circles (easy), blue squares (more difficult) and black diamonds (most difficult). Most resorts have a majority of blue square trails, which make up about 50 percent of the runs, then 25 percent green circle trails and 25 percent black diamonds.
Half-Pipe
The half-pipe was named because it looks exactly like a piece of pipe cut in half length-wise, turning it into a "U" shape. You start on a ramp in front of the pipe and gain speed to enter the pipe. The half-pipe is on a downward slope, so you enter on one side and ride back and forth between the walls without losing speed. You then jump out of the pipe and perform airs and tricks at the top of each wall until you reach the end. The half-pipe is usually designated as a black diamond, and should only be used by advanced riders.
The Terrain Park
The terrain park is another place made for advanced snowboarders to hit jumps, ride rails and perform tricks. Like the half-pipe, the park is also considered a black diamond. Most resorts strategically place a number of park elements, such as rails, jumps and quarter pipes -- a small section of one wall of a half-pipe -- in locations that allow the riders to hit multiple obstacles and perform a number of maneuvers in a single run. Most resorts have a park manager in charge of rearranging the park elements and adding new ones throughout the ski season to keep freestyle riders coming back.
Backcountry Trails
Backcountry trails are those that are unmarked and not groomed. This type of terrain is only for expert snowboarders, and you should ride backcountry without proper avalanche and first-aid gear. Some resorts offer guides to take you to backcountry areas of the mountain, while others offer areas for backcountry riding that are monitored by ski patrol for avalanches and other dangers. Backcountry trails are always marked as black diamonds, but some are even marked as double black diamonds to emphasize the area's extreme difficulty.
Moguls
Nearly every resort has at least a few runs dedicated to moguls. These runs are generally steep and littered with large mounds of accumulated snow that riders can maneuver through or hit as jumps. Resorts never groom the mogul runs, which causes the bumps to get bigger as skiers and snowboarders carve into the snow around them. Moguls can be tricky to maneuver if you have not mastered sharp turns on your snowboard, and they are most often rated as blue square or black diamond trails, depending on how steep the mountain is.
Freeriding Trails
Freeride trails are the most common trails at any ski and snowboard resort. They are groomed daily and range from steep slopes straight to the bottom to long, easy runs linked together for a more drawn out ride. Because the ratings of the trails are based on the difficulty of the terrain for that area, a green circle on a steep mountain in Colorado may be too advanced for a beginner who has been riding green circle runs on a much smaller mountain. This is true for blue square and black diamond runs, as well, so always research the resort's trail map or consult with the ski patrol before you hit the slopes.
References
Writer Bio
Courtney McCaffrey graduated from the College of Charleston in 2008 with a B.A. in media studies. She has served as an editor for Blooming Twig Books and the MADA Writing Services publishing company. She is now a writer on various outdoor sports such as snowboarding, skiing, surfing and bodysurfing.