Comparison: Trek & Fuji Hybrid Bicycles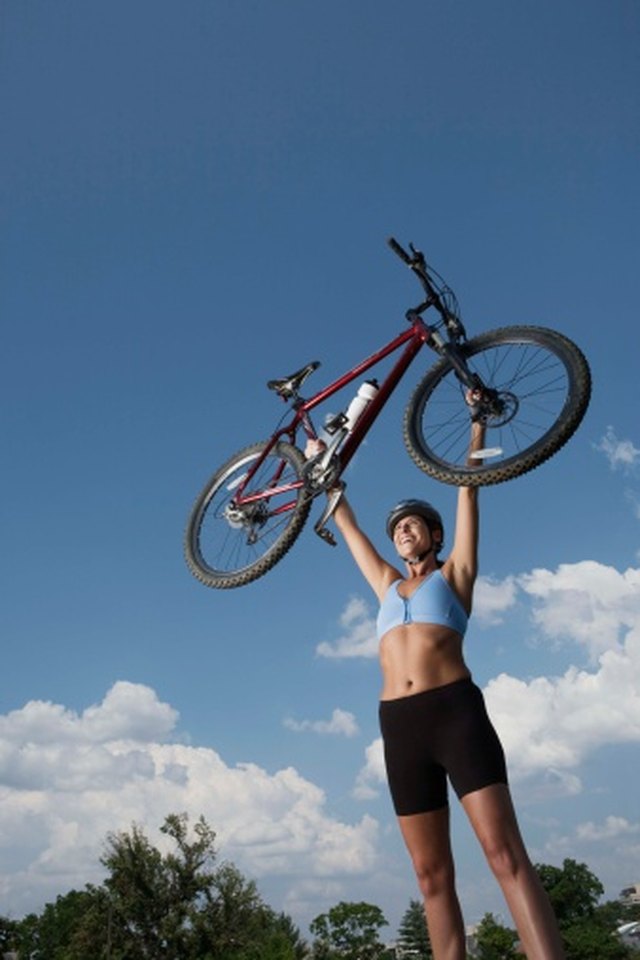 Before purchasing a new bike, consider what your needs are and what purpose the bicycle will serve. For those who seek comfort and plan to commute on the road or light trails in rain or shine, a hybrid bicycle might be the right choice. Trek and Fuji are two major producers of hybrids.
Hybrids
A hybrid bicycle is a cross between a mountain bike and a road or touring bicycle. The frame is similar to that of a road bike, but the bike contains flat handlebars, which allow the rider to sit in a more upright position than on a road bike. The shifting is also similar to a mountain bike and the bottom bracket is higher off the ground, which allows for more clearance. These bikes are usually equipped with fender mounts as well. The bike's tires are also a cross between a mountain and road bike. They contain knobby, narrow tires, useful for tackling everything from a sidewalk curb to a gravel trail.
Fuji
Fuji's hybrid bicycle is called the Crosstown and comes in ten different models. The bike's price varies from $299 for the Crosstown 2.5 to $549.99 for the Crosstown 26 1.1, as of mid 2015. The Crosstown 3.0 is a twenty-one-speed with Shimano Tourney EZ-Fire shifters. The bike also has a padded seat with a suspension seatpost and 700c wheels. The Crosstown 26 1.1 has a few upgrades, including a drivetrain with EZ fire 8-speed shifters. It has a suspension fork and relaxed geometry for seat comfort. This will make for a smoother ride than the steel fork found in the 3.0.
Trek
Trek has a larger line of hybrid bikes. The Verve series of hybrid bikes range in price from $439.99 for the Verve 1 to $879.99 for the Verve 4, as of mid 2015. A midrange choice is the Verve 2, which retails for $549.99. The Verve 1 features SRAM MRX, 7 speed twist shifters, and the Verve 4 has an upgraded Shimano EF65, 9 speed shifter. Both the Verve 1 and Verve 4 have an Alpha Gold Aluminum frame.
Women's Bikes
Both Fuji and Trek also make a women's hybrid bike. Fuji offers the Crosstown series for women, the Crosstown LS, featuring different frame sizing and a women's saddle. Trek offers four options, one for every different level of hybrid bike. Its women's models feature a curved step-through top tube, similar to that of a cruiser bike, and modified sizing.
References
Writer Bio
Dr. Robert Manning holds a Doctor of Chiropractic degree and practices in upstate New York. He has worked in a multitude of settings including the veterans affairs system, inpatient hospitals and private practice. He has been a writer and contributor to various Web-based publications for five years, and produces health-related works in his local community.